by Amanda Brophy (age 12)
Byron, Minnesota, USA
My Dad is an engineer. To me, that means he loves to solve problems. It also means that he is always encouraging me and my two sisters to think. It's like he looks at every situation in life either as a puzzle to be solved, or one that has already been solved.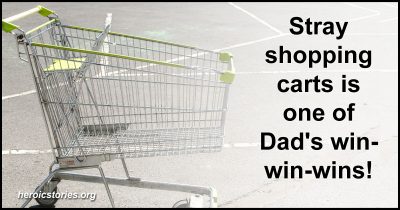 One of the things that really gives Dad a big sense of accomplishment is when he figures out "The Win-Win situation". This means more than just a compromise. It means finding a solution to a problem, where you and the other people involved really feel happy about the result. It's not easy coming up with them at the time, but the answers look obvious once we find them.
Stray shopping carts is one of Dad's win-win-wins! Whenever we go to a shopping plaza or a grocery store, he tries to park near the "strays". Then we each take one, and wheel it in to the store. When we're walking in a parking lot, the shopping cart makes it almost impossible for a moving car to not see us. (And the loud noise they make going across the rough pavement reminds the drivers to look, too!) That's important for us kids, because we aren't as visible as adults, and it keeps us safe from moving cars that might not see us. It's also good for the people driving near us, because they don't worry so much about where the wondering kids are, and whether they're going to dart into harm's way. It also makes it easier to park, because these strays usually take up a parking space. The third "win": store workers have less work to do, gathering up the strays. Dad says this keeps costs down, and that's really important for the store and the shoppers.
The more I think about it, there are other wins that Dad hasn't told us about. Dad wins, because he doesn't worry so much that someone might back out and hit us, or even him. He's tall, but sometimes drivers can't see everything that's behind the car.
When we first started bringing in the strays, it was pretty embarrassing. That was a big "LOSE", as far as I could see. I never saw  anyone else do it, and I usually had other things on my mind. Now it's just something we do. Dad says that little choices like this make our world a better place, one act at a time. I think he's right.

Podcast: Play in new window | Download (Duration: 3:51 — 1.8MB)