by Crystal M. Anderson
Iowa, USA
It was 1952 and I was a sophomore in high school. An algebra class was dealing me fits and it wasn't sinking into my dull brain. The language of algebraic terms threw me for a loop. My teacher was Miss Rupp and my fear of her was second to none other I had faced before.
Miss Rupp of the stern face and forbidding nature left me quaking in my white buck shoes. I hoped that she would not call on me for any answer. I knew I would not know the answer and her eagle eyes told me that she knew I wouldn't know the answer.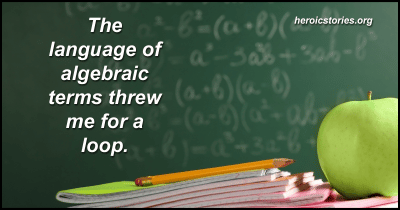 Luck ran out one day and she called my name, told me to come to the blackboard and work the problem she would give me. I stood in front of that blackboard, my nose just a few inches away from it, and stared at the problem. My hand with the chalk in it didn't move. Why bother? I didn't know how to work the blasted problem.
Finally Miss Rupp took the chalk and did this and that and came up with the answer. "Miss Stogdill, you can return to your seat," she told me. "Yes, Miss Rupp," I said, with my head down, as I slunk back to my seat.
It seemed forever before our class was over and once it was, I headed for the door, ready for the great escape. I almost made it, but then I heard Miss Rupp say, "Miss Stogdill, I would like to see you at my desk."
Inside I was saying, "But I don't want to see you," but I turned and made my way to stand before her.
"Miss Stogdill, you are having far too much trouble with Algebra. You definitely need some help. If you can come in after school, I will help you until you understand the concept of Algebra, she said."
What a relief, help! I agreed to come in and I did so. She spent time with me each night I could come in until I understood what she was trying to teach me. I ended up my time in her class with a B average and I owe it all to a woman who was more than an average teacher. She was an extraordinary teacher, one who went the whole way with her students.
I was not the only one who benefited from this woman's teaching. It was years before I fully understood how much Miss Rupp cared for us, her stern and forbidding nature covered up a big heart, filled with love for those she taught. Indeed when she walked in to watch a school sports game, she was cheered more often than not. She was respected and she had earned it.
She is long gone from this world we live in, but whenever I think of her, I say to myself, "Hats off, Miss Rupp, you deserve it."
Originally published as HeroicStories #618 on June 11, 2005

Podcast: Play in new window | Download (Duration: 4:14 — 2.0MB)