by Eric Jacobson
Carrollton, Texas
In 1970, I was enrolled at a college in Colorado Springs. I had just spent a couple of months rehabbing an old BSA (English) motorcycle when spring break rolled around, and I thought it was about time to give it a real road test. I hopped on with just a few provisions and headed south to see my family in Dallas, 750 miles away.
The trip down on an unreliable bike was arduous, but it was on the trip back to Colorado that things turned really sketchy. I made it as far as Dumas, Texas ("Home of the Ding Dong Daddies", according to the billboard at the edge of town) and the bike just quit running. A guy at a Texaco station gave me permission to work on the bike around the
side of his building. I had little mechanical ability and very few tools, but I spent the afternoon trying everything I could think of, to no success.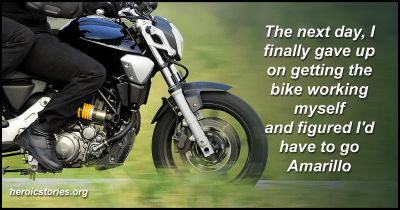 After a frustrating couple of hours, two young dudes on bicycles rolled up and asked if they could hang out and watch me work. Glad for the company, I said, "Sure." We talked while I tinkered, but eventually they said, "We've got to get home for dinner", so I waved goodbye and watched them pedal away.
To my amazement, ten minutes later, one of them returned to the station and said, "Mom says to come over for dinner, and we've got a place inside the house where you can work on your motorcycle."  Long story short, the place they had for me to do my wrenching was in the front room of their house, which was bare because it was being rebuilt
after a recent fire. We had a nice dinner, played some cards, and they filled the city boy in on what life was like in their very small (the movie at their one theater changed every Wednesday) town. I was humbled by their hospitality, especially since they clearly were people of very modest means; their house was scarcely bigger than a large two-car garage, and they didn't even have a telephone.
The next day, I finally gave up on getting the bike working myself and figured I'd have to go Amarillo, 50 miles away, to find a bike mechanic. Fifty miles is a little too far to push a motorcycle, so I did the only thing I could think of: I stood by the highway, next to the bike and all my gear, and stuck out my thumb. It took an hour or so, but finally a pickup truck with a couple of guys stopped, and we wrestled 400 pounds of bike and belongings into the back of their truck. They hauled me to Amarillo, took me to a motorcycle repair shop, and I was eventually able to limp back home to Colorado.
Not only had many people in the sparsely populated Texas panhandle shown enormous generosity to a stranger in trouble, but they'd also shown me that my big-city notions about small-town folks being boring and hostile to outsiders were utterly mistaken. They broadened my outlook on life in ways I've remained grateful for ever since.
Originally published as HeroicStories #884 on Jun 16, 2017

Podcast: Play in new window | Download (Duration: 4:13 — 2.0MB)