by Jack Grimm, Jr.
Plano, Texas, USA
It was the summer of 1965, in the small town of Plano, Texas, north of Dallas. Our family was new to town, and we knew no one. This was our third move since leaving eastern Ohio three years before.
My brother, sister and I were "new kids on the block," and I was small for my age. I wasn't into sports and my name Jack fueled the nursery rhymes which many kids used against me. I was out of most social dealings of a small-town seventh grader, and thus had to prove myself over and over.
Then came the new school year. For a while I thought my face had a target that said "Punch Here." But I found my niche third period the second day. I didn't know Mom had signed me up for choir, but it was OK because I liked music. Our teacher, Richard J. Winters, was also new to town and to teaching. He was in his 40s, just starting his choir directing career.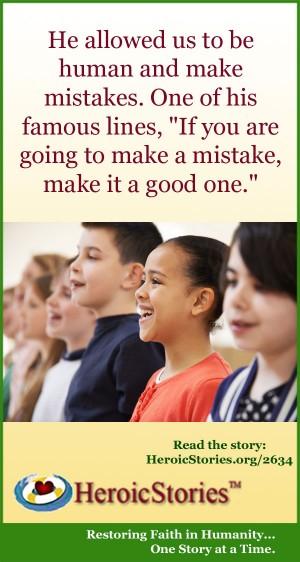 He was a tough guy, a former marine, and I immediately recognized he loved both kids and music. Our first day he told us what he wanted for us and from us. Most kids in class were interested in being cool — I was interested in making music. We each took a turn beside the piano where Mrs. Fineout accompanied us. It was intimidating singing in front of the class, but I did. The revelation: I was a tenor. I wasn't sure what that meant, but I was proud of Mr. Winters' compliments.
As he heard us sing, we saw genuine excitement in his demeanor. At the end of vocal testing he rearranged us into seating for our parts. He declared, "You are going to be a great choir!" Through many contests, our choir proved not just good, but among the best in Texas.
I had found my home and my passion: music. I also found courage to pursue sports — the "Punch Here" target was gone.
Mr. Winters encouraged us to compete in solo and ensemble contests, to try out for musicals, and to be proud of our musical talents. He instilled in us a desire to do great things, to start our own groups and even rehearse on our own. He allowed us to be human and make mistakes. One of his famous lines, "If you are going to make a mistake, make it a good one."
He was like a father to us in so many ways. With his encouragement, many of us went into the arts in college, some of us are actors, musicians, writers and songwriters. I had gained confidence to pursue my two careers, as a professional graphic artist and as a studio musician, singer, and songwriter. When we had a reunion for Mr. Winters, "his" kids came from around the world to honor him. We told him what an impact he had had on each of us. Mr. Winters, you taught us how to be champions.

Podcast: Play in new window | Download (Duration: 4:08 — 3.9MB)
Originally published as HeroicStories #213 on June 4, 2001