By Linda H.
Victoria, Australia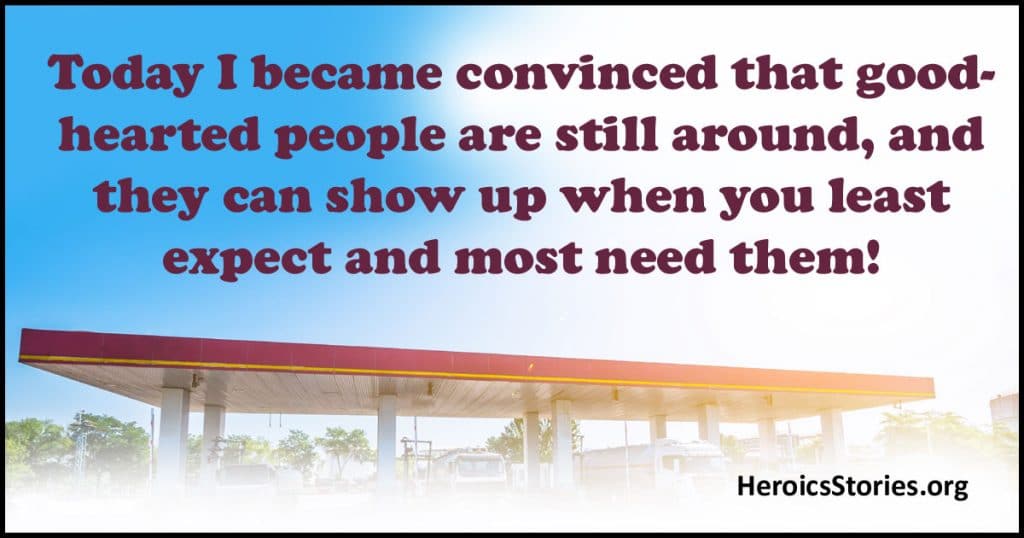 I live in the country they call "Down Under", where it is hot at Christmas. Today is the last day of the year, and it is very hot. I'm not good with heat, and my age doesn't aid my memory.
When I told my husband that I needed to go and visit a sick friend, he asked me to fill the car up with petrol (gas, in some other corners of the globe). Even though we've had this car for over a year, I've never had to fill it up; my husband usually does that.
I'm not very confident about the distance between the car and the petrol dispensers on my left. I had to go forward and backward a couple of times to have the car in the right position. A nice young man nearby encouraged me, saying 'You can do it!'
After the tank was full and the cap screwed on, I discovered that I'd left my purse with all my money, cards and identification, at home! It was Monday, and on Sunday we attend church, for which I have a special handbag into which I load my money, phone, and a few other things. On Monday all this goes back into the everyday handbag. Only, today it was too hot for me to think clearly; I managed the phone and my emergency medication, but totally forgot about the purse.
Very embarrassed, hot, and flustered, I explained to the young man at the counter that I didn't have anything with me except my phone. I explained that I only live about 10 minutes away. Could he perhaps just note the registration number of the car? No, he said, because I could have stolen the car, what I thought was a reasonable deduction. I can't blame the young man; he was very polite.
While I was standing there trying to work out what to do, a man came in wanting to pay for his petrol. He stood there patiently and seemed interested in our conversation. Just as the young attendant said I should leave him my phone, the man behind me asked how much I owed. The attendant told him $17. Without any further question, he told the attendant that he would pay it to save me having to run home and back in the heat. He wouldn't give me any information so I could pay him back; he just said, "Pay it forward — sometime you can help someone else."
Today I became convinced that good-hearted people are still around, and they can show up when you least expect and most need them!
Originally published as HeroicStories #889 on Jan 4, 2019

Podcast: Play in new window | Download (Duration: 3:51 — 1.8MB)