by Myndilee Wong
Canton, Ohio, USA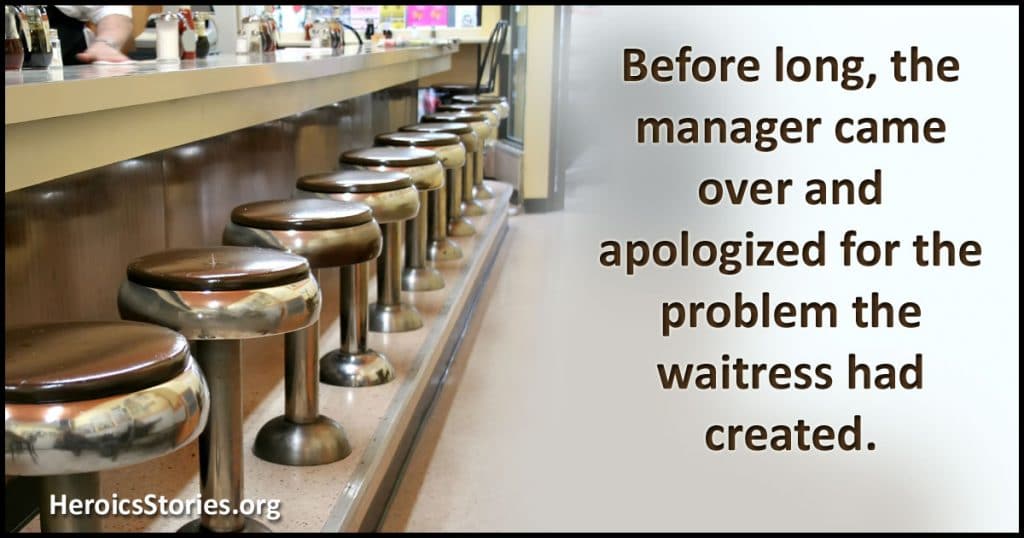 Recently, I stopped at a deli in Chagrin Falls for dinner with my three-year-old daughter. We had been trying to get home from downtown Cleveland and were caught in rush hour traffic. It was after 7 p.m. and we were very hungry.
Once seated, it seemed like an eternity before our waitress, who had passed our table several times without introducing herself or offering to return and take our order, approached us. We finally ordered, and when the food came proceeded to devour it.
Sometime toward the end of our meal, a bus boy approached our table with an ice cream sundae and told me that they had made a mistake in the kitchen and were going to have to throw it away. Rather than do that, could he give it to my toddler? Certainly, I said.
My waitress, totally incensed that I was eating something she hadn't served me, started an undercurrent in the dining room that I soon became aware of. I explained to her that I was told it was a kitchen mistake and that I would not be charged for it. She asked if it was the bus boy David — it seemed to me that all the staff knew he was predisposed to this kind of behavior. This did not, however, satisfy her and she proceeded to add the ice cream to my bill. When I asked her about it, she got an even bigger attitude.
Seeing the commotion, the bus boy came over to the table and gave me $5.00 to pay for the ice cream and immediately disappeared. (The price of the sundae was only $1.76.) As he dropped it on the table he said it was a sad day on Earth when you couldn't be nice to babies.
Before long, the manager came over and apologized for the problem the waitress had created. He said neither I nor the bus boy David had to pay for the ice cream. You have to wonder why some people don't realize that they are in the service business! But David knows, and is singlehandedly trying to make this a kinder, gentler world.

Podcast: Play in new window | Download (Duration: 3:16 — 1.6MB)