by Karen Vaughan
New York, USA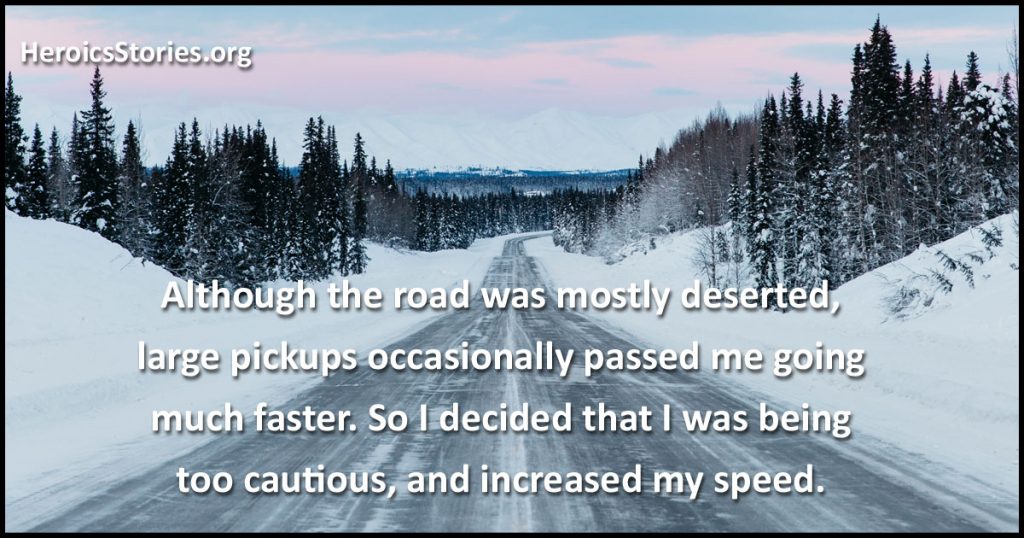 In 1973 I left college in Seattle for Christmas break, driving a Volkswagen bug home to visit my parents in the southeast part of Washington state over Christmas break. I was a fairly new driver. Part of the drive would be through the Hanford Nuclear Reservation where one is not allowed to even stop the car for a 60-mile stretch.
It had snowed for days, but the pass over the Snoqualmie mountains was cleared and there were good roads all the way to Ellensburg in the center of the state. Over the hills from Ellensburg was the Columbia River, desert, and virtually no settlements for an hour and a half under excellent driving conditions.
As soon as I drove across the bridge over the mile-wide Columbia, the roads were packed snow and ice and it was snowing. I was driving gingerly over the area, which has sharp turns, hills and strong winds. I was nervous because a friend of my mother had died in this area in a motorcycle accident during good weather, simply by missing a turn.
When the road straightened into big plateaus slightly inland from the river, I accelerated to maybe 25 miles an hour. Although the road was mostly deserted, large pickups occasionally passed me going much faster. So I decided that I was being too cautious, and increased my speed. I spun off the road and ended up on the side separated from the road by a deep ditch.
I had no idea what to do — the car was fine, but I couldn't bridge the ditch. The nearest settlement, Beverly, Washington, a company town for the Wanapum dam, was over 20 miles back. There were no cell phones in those days and virtually no traffic. And of course my parents expected me at any moment and I was still a hundred miles away. I stood on the shoulder in the snow in bewilderment, realizing that I might have to spend the night in a cold car.
After about half an hour, a pickup truck came from the opposite direction. The woman driver pulled over next to my car. She had passed me earlier, noticed that she couldn't see me in her rearview mirror and decided to come back and see if I was all right.
We were unable to push the car back on the road, but as a bolder driver with experience driving farm machinery over uneven terrain, she had other ideas. She got in my car, backed up, revved it up and jumped the ditch. Afterwards she got me situated and sent me on my way.
I may never know who this Good Samaritan was, but I am utterly grateful that she decided to turn back on a treacherous road on a cold winter night.
Originally published as HeroicStories #519 on June 3, 2004

Podcast: Play in new window | Download (Duration: 3:51 — 1.8MB)