by Mark Johnson
Indiana, USA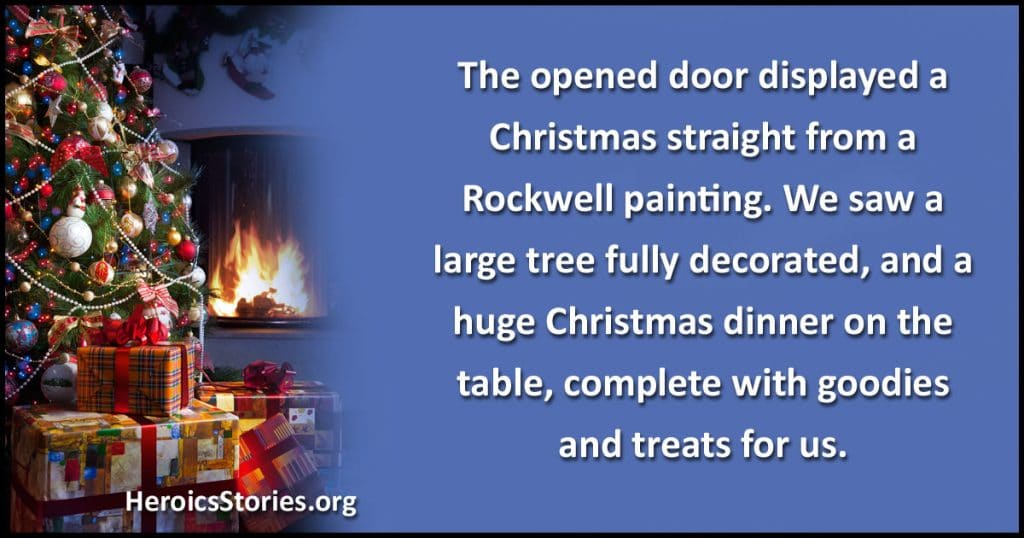 I'll never forget the year when I first learned what Christmas was all about. It was about 1970, when I was just a small boy. My father was in the navy at that time. We lived on a naval base in Norfolk, Virginia, and dad was out to sea on an aircraft carrier.
He was often gone for many months at a time, and this year he would be gone for Christmas. He had been scheduled to return weeks before Christmas; instead his ship was delayed somewhere across the sea.
Back then there was neither direct deposit nor computers to do payroll for the families of enlisted men. So what money we had was it, it was all we'd have until dad would return home and be able to receive his pay.
This was a difficult, desperate year for my mother. She had six children and no money to buy Christmas presents. She sat up many nights in tears of worry, while she made little gifts out of scraps of material she had at home.
We didn't even have enough to buy a Christmas tree for our home. With Christmas Eve upon us, my mother tried to make it the best as she could for us children. She made a Christmas tree out of lights on the living room wall, and told us the truth about what the morning was to bring.
Heartbroken, she dried her eyes and got us ready to go see Santa. That night was the navy's yearly Christmas show, with presents for children. We turned on our "Christmas tree" and left to receive the only gifts we'd get that year. After the 90-minute program, we returned home.
When we opened the door my mother sat down and wept — this time from wonderment and joy.
The opened door displayed a Christmas straight from a Rockwell painting. We saw a large tree fully decorated, and a huge Christmas dinner on the table, complete with goodies and treats for us. The stockings we had hung with sadness in our hearts were now filled with toys and candy. Last but not least, under the tree were more presents than we had ever imagined.
Our joy was indescribable. We still don't know how this came to pass. The doors and windows were locked tight; there was no way in. All of our friends were at the party.
The only clue left was a single note on the little table by the door that read, "Have a very merry Christmas, Love Santa". I'm forty years old now and I would like "Santa" to know he changed not only my life that year — but everyone I've known since. I try to help anybody who has children have a good Christmas and have passed on that tradition to my children.
Bless you Santa, who knows how far your gesture will continue.
Originally published as HeroicStories #538 on Aug 9, 2004

Podcast: Play in new window | Download (Duration: 3:52 — 1.9MB)