Irene Harvalias
British Columbia, Canada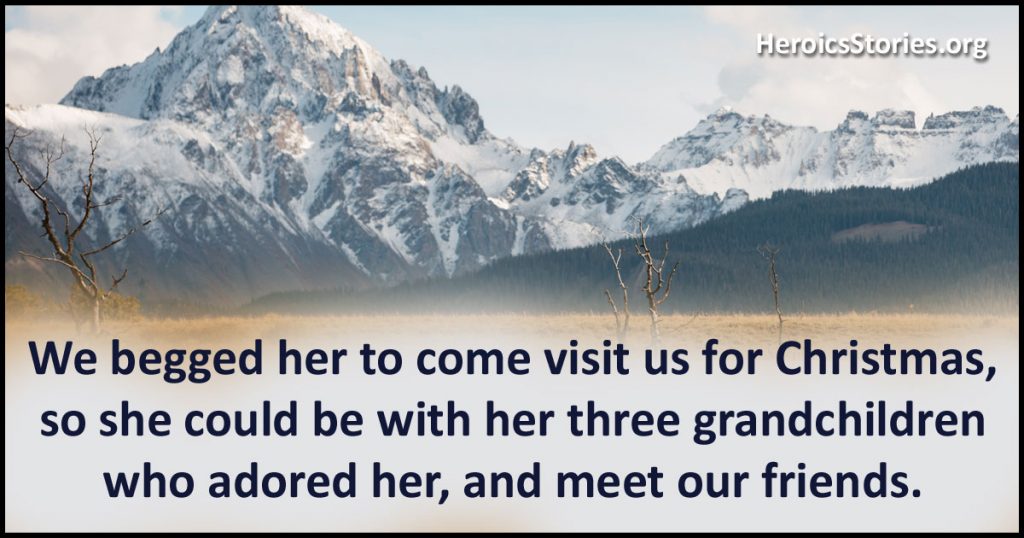 In the early 1980's, my mother was diagnosed with Parkinson's disease. A few months later my stepfather passed away. Ma's condition was already becoming debilitating, and now she was heartbroken by the loss of her beloved husband.
My husband and I lived in British Columbia, Canada, and Ma lived thousands of miles away in her native Greece. We begged her to come visit us for Christmas, so she could be with her three grandchildren who adored her, and meet our friends. She agreed to make her first trip to Canada, and we were overjoyed.
My husband worked for Canadian Pacific Airlines at the time. He was in Greece on business, so he was able to pick her up and accompany her on her flights to British Columbia. We had a wonderful Christmas, and even took her to a neurologist here who changed her medication. We were delighted to see her condition improve right away.
Many of our friends met Ma and loved her instantly, including Max, a casual acquaintance who worked with my husband at CP Air.
When the time came for Ma to go back home to Greece, she would have to travel on her own. She had to fly to Amsterdam and change planes for Athens. We were concerned for her, but there seemed to be no other choice.
Then Max told us HE was going to Amsterdam the very same day. He promised to take her under his wing for the plane change and anything else she might need. Our relief was immense. We hugged and kissed tearfully and handed her over to Max. After Ma got home, we talked on the phone and heard the story of her journey.
When her flight landed in Amsterdam, the plane from Athens hadn't arrived yet, because there was a big storm in Athens. Ma would have to wait until her plane arrived and hope that her flight to Athens would not be canceled. This is where Max took over.
He sat her down and went around the airport making inquiries about the flight's arrival and departure times. He stayed with Ma, missing his own flight out of Amsterdam, until her plane arrived many hours later. He stayed by her side until he had her safely on board. Hers was the last plane to land in Athens that day because of the storm. Max had to spend the night in Amsterdam.
Although my darling Ma has been gone for many years now, I'm still amazed at the goodness of this man. Max did so much for my mother and for us, even though he was only our acquaintance. I don't know how many people would have done as Max did; I'll never forget his kindness.
Originally published as HeroicStories #525 on June 24, 2004

Podcast: Play in new window | Download (Duration: 3:44 — 1.8MB)