by Crystal C.
Oregon, USA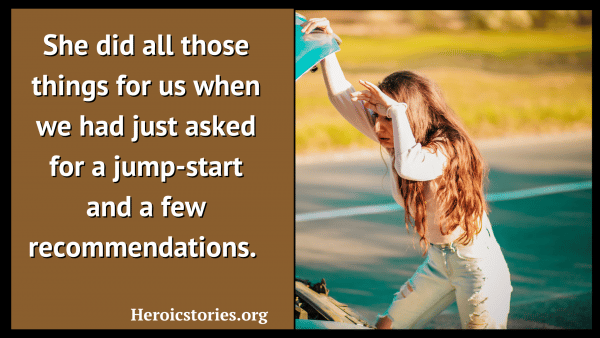 Early in 1999, our family had to drive several hundred miles to Billings, Montana, to visit a hospitalized family member. Between travel, lodging, and having given most of our available cash to help relatives out with expenses, we had very little money when we left to return home. It was dusk when we drove out of Billings.
We didn't notice at first that our headlights were dimming, and that's probably why we missed the exit for the interstate leading home. About 40 miles later, we began to see that nothing along the highway was familiar. In 35 more miles, we saw an exit to a town that wasn't anywhere near where we were supposed to be.
With eight miles to the next exit, we realized the headlights were dangerously dim. The car began to sputter, and I had to turn off the lights to keep it running. At the foot of the exit ramp, there was a small post office. The car stopped running completely as we pulled into the parking lot.
I soon determined that the alternator wasn't working. It was 7:00 p.m. and we were in Rosebud, Montana, a tiny town with no services.
To make things worse, heavy snow was falling. We needed to find our family a safe place to spend the night and find an alternator to fix the car in the morning.
We couldn't see any other buildings, and the rest of the town was nearly a mile away. Even if we walked there, we knew there was probably no motel or parts store.
Just then, a lady stopped to check her mail before heading home. I asked if she had a few minutes to help charge up our battery and where we could find food, lodging, and car parts. She gave what we needed and more.
She suggested we go to Forsyth, about seven miles away. We followed her with only our parking lights on so the car wouldn't die again. She led us to a motel, where she insisted on paying for the room. While we were settling into the room, she returned with a meal she had purchased for us.
The next morning she came back! She took us to the parts store and insisted on buying an alternator for us. While I was fixing the car, she got us another meal — and as we were leaving, she filled our tank and insisted we take some money for the trip home.
She did all those things for us when we had just asked for a jump-start and a few recommendations. How she could tell what else we needed and why she gave us so much, I don't know. But I know how much it meant to us. Perhaps her greatest gift was to give us a memory of one person who would do so much for complete strangers.
Originally published as HeroicStories #729 on November 6, 2007

Podcast: Play in new window | Download (Duration: 3:52 — 3.0MB)