by A Grandfather
The Desert, USA
The mother watches, expressionless, instinctively she reaches for them, her children who will never again be children. How far they've come in just weeks — not just in miles, but in years, ages, pain and horror. The children's cheeks and eyes are less haunted now, the youngest even leaving his father's arms.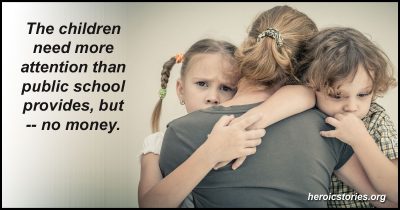 His sister who had ceased to speak now breaks silence somewhat, but still won't talk about *IT*. Counseling, suggests a friend. We'll see, says her mother, braiding her child's hair. A French braid is also counseling.
They aren't receiving aid from organizations. Every so often they call the Hurricane Katrina survivor aid number, but have never reached a human being, or been called back.
Yet they're lucky. Funds were raised to purchase a year's rent in a low-end, cookie-cutter townhouse. Cramped, the kids sharing a bedroom, but better than four in one room in a stranger's house.
They have no possessions, but furniture arrives. Used — but usable. Here, says a plump matron, these dishes for four, a gift, never used. The little boy's jaw drops, "WOW!" at the colorful rooster decorations. His mother hugs the lady. She doesn't cry; she hasn't shed one tear.
At the paint counter, mother gently shows a satin rosette. All that remains of their previous life. "From our wedding." Father says, "Just match it." By sunset, the little dwelling has a facade of palest apricot.
The children (those around decide) need more attention than public school provides, but — no money. Inquiries are made. The "progressive" school has no transportation. The Catholic School says no. The Mosque School says yes, has a bus.
An old turbaned man arrives. "We're Catholics," says mother. "Yes," he replies, then says to the boy, "Soon you'll be a Catholic who can read." He smiles at the girl's look, reading her mind. "Not required, just modest dress."
An elegant white-haired lady whisks mother and daughter off to shop. Outside an old brown man plants pansies, masses of them. Those hanging curtains and art from every continent have also stocked the kitchen with a global selection of edibles. The gracious lady returns. "Tea," she orders her driver, her great-grandson.
A fearsome street gang of young men from Mexico and Central America arrive in a burst of shouts, tattoos and alarming automotive sounds. They demand beer and rides home, leaving an automobile they made for father to drive to his new printing company job. Proudly, they concede it hideous and noisy — but promise it goes forward and backward. "De puras partes, lo hicimos!"
The mother looks around at her new neighbors, her new family, in soft white cotton robes of Ethiopia, in saris, salwar kameez, jeans and T-shirts, low baggy pants revealing underwear waistbands. The teenaged street gang, the antique couple, all ages between. She goes quickly to the kitchen. "I don't think we have beer," she begins, then opens the refrigerator, to find beer from Lebanon, Belgium, India, Mexico and Palestine.
And she leans against the open door, unable to stop the tears.
EDITOR'S NOTE: Original, longer story here: http://tinyurl.com/okhv8
Originally published as HeroicStories #672 on Aug 26, 2006

Podcast: Play in new window | Download (Duration: 5:00 — 4.6MB)