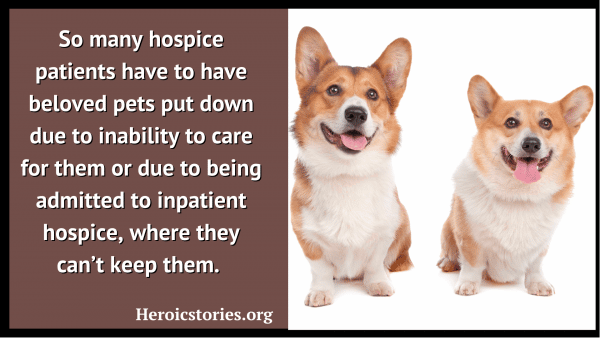 Julie was the caregiver for her 80-year-old mother as well as fighting her own battle with metastatic breast cancer. During a visit with her physician assistant, Julie learned she had arrived at the stage of "There's nothing more we can do for you."  Moments later, a phone call was routed through for Julie; it was a neighbor, calling to tell her that her mother had fallen and was on the way to the hospital with a broken hip.
The physician assistant – we'll call her Abby – comforted Julie for an hour, contacted the Chaplain's office, helped her call her brothers and fill them in, and arranged for Julie to be taken down to see her mother. Later that afternoon, Abby went to check on Julie, and again found her in tears.
Julie told Abby that she had two little dogs, and while it certainly wasn't her most pressing problem, it was breaking her heart to think of having to leave them or have them put  down when she entered hospice, as she had no one to take care of them.  It was already a struggle for her to keep them while feeling so poorly, and she was faced with making arrangements for her mother, who  was adamant that she was going to stay in her home. Julie's brothers lived out of state, so making that happen for her mother was going to be about all she could manage.
That night, Abby spoke with her husband. When she saw Julie the next day, she offered to take the dogs home with her and bring them to visit Julie when she was able. And that's what they did. Until Julie went into hospice, Abby and her husband regularly took Julie and her mother to see the dogs or brought them to her. On her good days, the dogs sometimes spent the night. When Julie entered inpatient hospice, she was able to have the support of her pets because of Abby's caring and generosity.
So many hospice patients have to have beloved pets put down due to inability to care for them or due to being admitted to inpatient hospice, where they can't keep them.  The compassion and service offered by Abby gave Julie a great deal of comfort and peace in her last months. Julie lived for eight months after Abby made her offer, and Abby continued to care for the dogs after Julie's death, finding a good home for the 8-year-old and keeping the 16-year-old herself until he passed about a year after Julie.

Originally published as HeroicStories #852

Podcast: Play in new window | Download (Duration: 3:32 — 2.7MB)