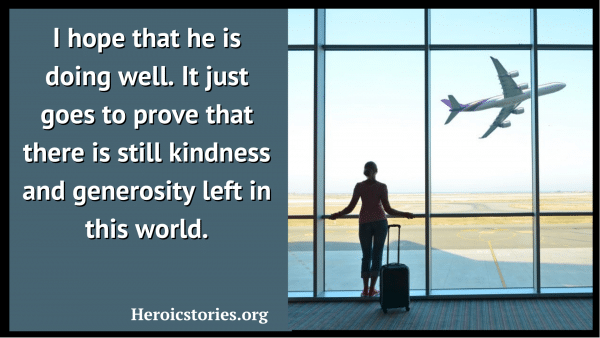 by Tamitha Chavez
Florida
I was half a country away when I got a call that my mother was septic and possibly dying in rural Kentucky. I was broke, but I was granted emergency funds on my credit card, and I flew to the closest airport: a one-runway airstrip in Huntington, West Virginia. There, I found that the emergency funds were not enough to cover the rental car I had reserved. I was stranded at 10:30 p.m. in the middle of nowhere, with only a backpack and an urgent need to be with my mother, who was a couple of hours away in the ICU.
I was distraught because I didn't have a clue how I was going to get from the airport to the hospital. That was when a gentleman came up to me and said, "If you will trust me, I can give you a ride to where you need to go. It's out of my way and I'll have to call my wife, but I can help you out if you like."
I still do not know what possessed me to accept his offer, but I did. He called his wife and let her know what was going on, and we were on our way. When he stopped to get some gas, he bought me a bottled soda. I don't think that I have ever met such kindness in my life from a complete stranger. He took me to the hospital and waited while I went to check on my mom. Then he took me to my hotel, waited while I dropped off my backpack, and took me back to the hospital.
When we got back to the hospital, I offered to give him some gas money. I felt like it was the least that I could do. It was after midnight, and here he was, still helping me. He REFUSED! This gentleman had not only given me a safe ride to my mother's side, bought me something to drink, made sure I got to my accommodations, and made it back to the hospital, but he did it out of the kindness of his heart. I don't remember his name, but I think about him from time to time and I hope that he is doing well. It just goes to prove that there is still kindness and generosity left in this world.
Originally published as HeroicStories #853

Podcast: Play in new window | Download (Duration: 3:14 — 2.5MB)