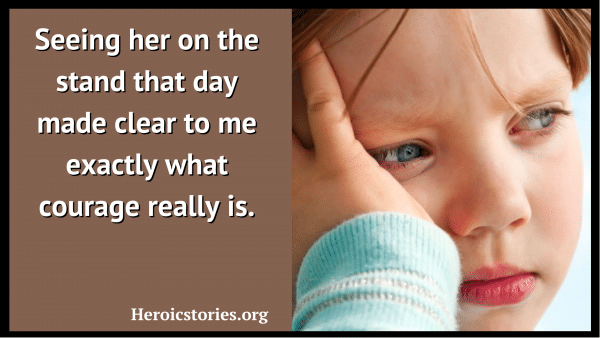 by The Counselor
Texas, USA
I am a child counselor for an organization that provides therapeutic foster care for children who have experienced abuse or neglect by their families. One of my former clients now lives with her grandparents in another state. She was placed into foster care with her two older sisters because her mother's boyfriend sexually molested all three of them. She is eight years old, about four feet tall, weighs 41 pounds, and looks like a little elf.
When her abuser went on trial, the District Attorney tried him on charges against this child only because she had gotten the very worst of the abuse. She came back to testify, spending two hours on the stand recounting in excruciating detail everything he had done to her over two years. She didn't back down when the defense lawyer tried to rattle her during cross examination. Instead, she announced that she knew he was trying to trick her, and he'd better knock it off! The investigating police officers, the doctor who examined her, the police examiner, her former foster mother, her grandparents, and I also testified.
The jury took 30 minutes to convict. My client's sister testified to his abuse of her during the penalty phase to establish a pattern, and the jury gave him 30 years. The District Attorney found two prior felony convictions for aggravated assault that this abuser had lied about, which added another five years to his sentence for aggravated perjury.
After sentencing, this tiny girl amazed us all. When she entered foster care, she was so scared of her abuser that she could barely even speak his name. After the verdict, she informed her former foster mother that she had something to say to the perpetrator. "You need to help me find a way to do that." The foster mother talked to the District Attorney, who talked to the judge. The judge said this was unprecedented — she had never had a victim in any sexual assault case want to make a victim's statement. But there was nothing to legally prevent it, so she agreed.
After the jury announced the abuser's sentence, this little girl stood up in the witness stand, looked straight at her abuser, and said, "I'm really sorry you have to go to jail, but you deserve it for what you did to me. I'm really happy to know that you're never going to be able to hurt me again. And that's all I have to say to you."
Everybody in the room, with the possible exception of the defendant and his family and lawyer, was in tears. We were all so proud of her! She made it possible for justice to be done that day. She faced her abuser bravely in a way few adults have the courage to do. And from the sound of it, this little one is going to be just fine. Seeing her on the stand that day made clear to me exactly what courage really is.
Originally published as HeroicStories #251 on Nov 8, 2001

Podcast: Play in new window | Download (Duration: 4:20 — 3.3MB)