by R. Thompson
Colorado, USA
My dad and I were hunting in the mountains surrounding Gunnison, Colorado. It was September 1988, and we were on a dirt access road to the wilderness area. Few people knew of this road.
As my dad and I drove to our drop-off location, we saw an older hunter with vehicle trouble.
We stopped, and from the look on his face I knew there was serious trouble. He had tried to cross a ditch-like road depression, his radiator had flexed in its mounting brackets, and its top had popped off. All we could offer was a ride out to get a new radiator in town, 30 miles each way. We thought of getting a tow truck, but the man mentioned he probably didn't have enough money for that.
My dad had an idea, though. I would continue to hunt from our drop-off point and he'd take the man and the broken radiator to town for repair. My dad didn't mind helping the elderly man. I remember my dad always telling me to help out where you can, even if there isn't a promise of
reward or expression of gratitude. Know that it always comes back when you may need it most.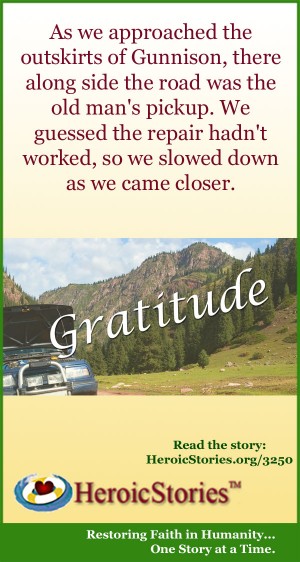 I hunted the rest of the day, but a hitch in the story developed in town. All the parts stores were closed; it was Sunday and hunting season. My dad took the man and the damaged radiator to a friend who had a garage. Dad thought he could solder a temporary patch on the radiator and get the truck to town for a more lasting repair.
The repair was made, the truck was fixed, the man drove off to town, and my dad returned to the planned pick-up point for me. When I arrived he told me what had happened, and we planned for tomorrow's hunt as we drove back to town for the night.
As we approached the outskirts of Gunnison, there along side the road was the old man's pickup. We guessed the repair hadn't worked, so we slowed down as we came closer. The old man stepped out from in front of the truck and waved us down. I rolled down my window and my dad asked if the repair had failed.
"Nope", the old man said. "I just got to thinking while I drove that I really hadn't thanked you for all you've done for me. So I just pulled over and waited for you to come by. Boys, I'm buying you dinner tonight."
We followed him to his favorite cafe. As we drove behind him, my dad and I had to think on this.
That old man must've waited beside the road for over three hours to catch us coming back into town so he could buy us dinner. It was that important to him to express his gratitude for what my dad had done. If you really are committed to making a gesture of thanks, nothing will stop you.
Originally published as HeroicStories #686 on Jan 23, 2007

Podcast: Play in new window | Download (Duration: 4:01 — 3.8MB)