By Rose Williamson
North Carolina, USA
In 1970, when I went to nursing school, it was like academic boot camp. We were either in class every day from 8:00 a.m. to 5:00 p.m., or at the hospital providing patient care. The requirements were strict, the level of performance required was not negotiable and it was this little country girl's first time away from home and living in a dorm. I was lonely, overwhelmed, and feeling very much out of my league.
For three months, I struggled with anatomy, pharmacology, chemistry, and clinical practice classes. I had always had a fairly easy time in high school and consequently had never developed very good study habits. Naturally, this was reflected on my test scores.
About three months into my first year, I felt like I couldn't go on with nursing school, but I also felt too ashamed to go home. This was a gut wrenching decision, because my mother had not completed high school and her dream was for me to have an education.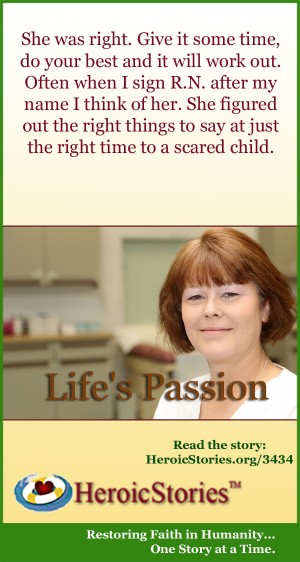 With a heavy heart, I began calling the want ads, thinking that if I could find a job, get an apartment and have a plan, my mother would be more likely to accept my decision without too much fuss. I made a number of calls and spoke with folks who were quick to realize that I had very little to offer. I was feeling even worse when I happened to call an employment agency where a kind female voice began to question me about my situation.
After a conversation of 10 or 15 minutes, she calmly urged me to keep on until the end of the first semester. She promised that at the end of the semester I could call her back and she would help me find a job if I still wanted one. She said everyone has scary times in their life but that most worked out if we let them. She didn't criticize or make light of my fears. She offered kind words, encouragement and made a bargain with me. I agreed to try.
I have been a nurse for 30 years. She was right. Give it some time, do your best and it will work out. Often when I sign R.N. after my name I think of her. She figured out the right things to say at just the right time to a scared child. My Mom never knew about this because another "Mom" filled in for her at just the right time.
Originally published as HeroicStories #356 on Nov 11, 2002

Podcast: Play in new window | Download (Duration: 3:40 — 3.4MB)