by Chris Avera
Florida, USA
It was 1978, twenty-six years ago. I was eight, and it was my birthday. I was told to make a list of four or five friends who'd enjoy the water theme park in nearby Tampa, Florida. Since we didn't have any spare money, the trip would be a packed lunch and no extras. I didn't care — I was getting a special treat!
The great day arrived and my mother, younger brother, six friends and myself piled into our old beat-up station wagon. We headed out of town for an hour and a half ride to the amusement park, for a day of sun and fun.
About halfway to the water park the car started running bad and the "check engine" light came on. My mom pulled the car over. We were stuck, wondering when someone would stop to help. An hour passed.
A police officer stopped to see if we were all right and called a tow truck to pick up the car. On the way to the service station, Mom told the officer where we were headed, as it was my birthday and a special treat. The officer dropped us off and left after giving me a short ride in the police car "as a birthday present".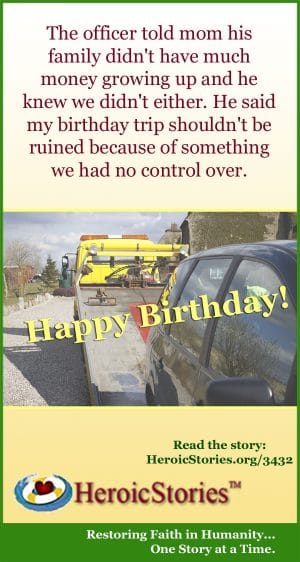 At the service station, the mechanic explained the water pump needed to be replaced. The cost, plus the tow, would be $135. Mom started crying and pulled me aside. She explained we wouldn't have enough money to go anywhere but home, and we'd have to save up to go somewhere else for my birthday later. I was disappointed but tried not to show it, knowing even at that age that we didn't have much money.
We tried to make the best of the day, the nine of us having a picnic at the service station with the cake Mom had baked. Eventually the mechanic called Mom into the office, saying the repairs were completed, but he had to make a phone call before we could leave. He hung up the phone and said to have a seat and wait.
The next thing I knew the police officer came in the door of the service station. He walked up to me with a wrapped present, handed it to me, and wished me a happy birthday. Then he paid the mechanic for the repairs and tow.
The officer told mom his family didn't have much money growing up and he knew we didn't either. He said my birthday trip shouldn't be ruined because of something we had no control over.
Out of a simple act of kindness this officer changed my life. I'm a single father raising two children of my own now and am not rich, but I remember that day and try to help others in need whenever I get a chance. A small act can change a person forever, and I try to instill this concept into my children's daily lives.
Originally published as HeroicStories #676 on Oct 14, 2006

Podcast: Play in new window | Download (Duration: 3:54 — 3.6MB)