by Cindy Bower
Wyoming, USA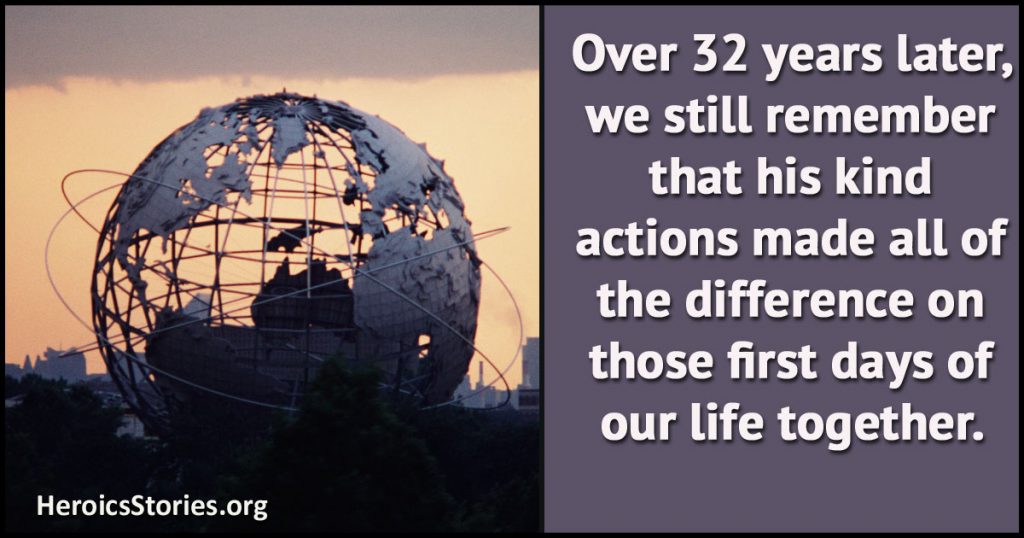 In 1974 we were married and for our honeymoon, flew to Spokane Washington's World's Fair. Reservations were made over the phone on a generic hotel hot line. The next open hotel spot was assigned to us.
We landed at the Spokane airport, hailed a taxi, and after introductions my husband gave the driver an address for our lodgings. Realizing we were on our honeymoon, he wasn't happy to take us there. We rode a long time and finally arrived at a large, newly built condo complex that had been converted into a cash cow for the World's Fair.
Each room of each condo had been turned into a makeshift hotel room. As we exited the taxi, the driver informed us he would return to pick us up in the morning. He wanted us to have our luggage ready as he was taking us to a better place. My husband, ever suspicious, hesitated but agreed.
We went into our room. On an upper floor, it had formerly just been a bedroom. We had a tiny bathroom with plastic tub and sink. Our room contained a metal folding chair and a bed. The window opened to a gravel courtyard below, where every step by every person, as well as the crunching of the ice machine, echoed throughout the courtyard.
The stifling 100 plus degree heat was horrible, and there was no air conditioning so our windows had to be left open. All conversations could be heard through the open windows as well as through the paper-thin walls of adjoining rooms. This was not the honeymoon we had imagined.
The next morning the taxi driver arrived as promised. We loaded our things into his cab and he told us he had a very nice place for us. We drove for some time to the heart of the older part of the city where tall trees grew and mansions lined the peaceful streets.
He stopped in front of a mansion and we went inside. He introduced us to a small Asian lady who took charge and showed us to our new room. We thanked him and never saw him again.
Our "room" was the whole third floor of the beautiful mansion. We had a living room, dining room, bedroom, kitchen and large bathroom with an old claw legged tub. There was even a little balcony. The open windows allowed a cooling breeze to circulate in the hot summer air. Just a block away was a bus stop minutes from the World's Fair.
The taxi driver told us that our new room (our mansion) was the same price as the condo, which it may have been. We paid the lady but since have wondered if he had made up the difference in price himself.
We don't remember the name of that sweet gentleman. Yet now, over 32 years later, we still remember that his kind actions made all of the difference on those first days of our life together.
Originally published as HeroicStories #688 on Jan 30, 2007

Podcast: Play in new window | Download (Duration: 4:13 — 3.6MB)