by Sarah, Luke's mom
Massachusetts, USA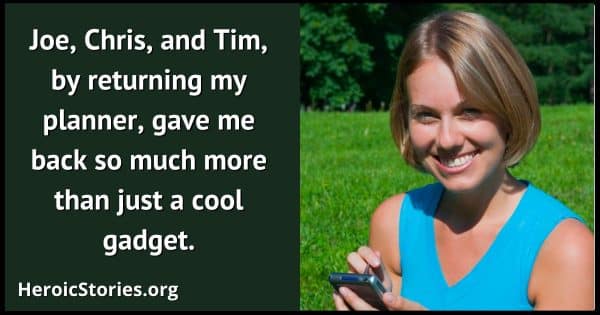 ---
Perhaps I was moving too fast that day in July 2005. I did not hear my PDA (electronic planner) slip from my purse and fall to the ground in the parking lot. My PDA stores my phone numbers, appointments, photos, meeting and birthday reminders: in short, it's my "electronic brain."
More than that, though, my PDA helps me with my son, Luke, who is on the autism spectrum. He's a runner; he takes off in public places. Several times I've needed to plead with museum or store staff for help locating Luke. Daily pictures show exactly what Luke has on that day, his exact height and current hairstyle.
My PDA is more than just a handy gadget; it helps me cope with daily challenges others only imagine.
The loss of my PDA sank in over the next few days. I listened for my daily alarms. I looked under furniture, sorted my purse, and even cleaned the car; no planner to be found anywhere. On Friday, I asked Jenna, my son's sitter, to keep an eye open around the house.
With a built-in camera, removable memory chip, and a few games, the PDA would be a nice find for someone. I was beginning to think about reporting the PDA as missing — but where had I lost it? When did it actually go missing? I began research on a unit to replace it.
Saturday we got a phone call from Jenna. Someone named Joe had called her to ask if she knew anyone who might have lost a PDA. Jenna first thought it was a prank call but then remembered me.
Half expecting my electronics to be offered for a ransom, I called Joe. Instead of money, Joe wanted to determine that the PDA was really mine. I told him how to access recent pictures of my son.
Within the hour, we met at the food court of the local mall. Joe, Chris, and Tim, all young men on the verge of adulthood, returned my planner without asking for anything in return.
They had spent their Saturday calling random numbers stored in the planner. With over 400 numbers to try, making phone calls to track me down took courage, persistence, and luck. They eventually called someone who knew about my missing planner — Jenna.
By returning my planner, Joe, Chris, and Tim gave me back so much more than just a cool gadget.
For every Joe, Chris, Tim, and Jenna in the world, if you're reading this, please know you are my heroes. Thank you. Your actions reaffirm my belief in the goodness of people.
Originally published as HeroicStories #633 on Sept 18, 2005

Podcast: Play in new window | Download (Duration: 4:14 — 3.2MB)