by Paul Berteau
Denver, Colorado, USA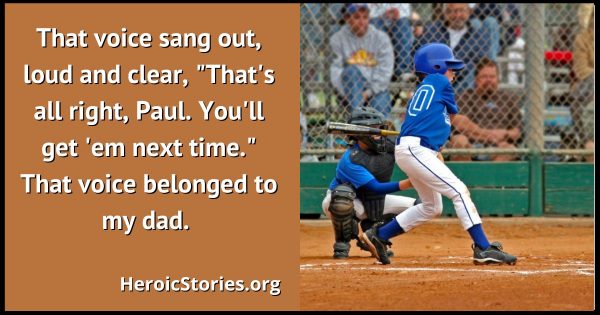 ---
To paraphrase, "It was the best of nights, it was the worst of nights." It was mid-summer 1967, and the weather in Louisiana had its normal hot "wet blanket" feel. I was about 16 and playing in a Babe Ruth Baseball League, a member of the Kiwanis Knights.
To say that I wasn't very good would be an understatement. While I had pretty good skills for "sandlot" baseball, there was something about the pressure of organized baseball that buried any of those skills. I was typically relegated to the position of bench warmer.
But on this particular night, only nine players on the Knights roster showed up, so the coach had to play me. Coach put me in right field, the least dangerous position. Little did he know!
With two out in the top of the first, the batter lifted a lazy fly ball to right. I planted myself under it and then lost it in the lights. The ball fell to the ground right in front of me. After I missed two more fly balls, the other team was sufficiently alerted to our weak spot. Over the next several innings, they placed their hits toward right field. Over the course of the game, I committed eight errors in right field, a record that probably stood until the league disbanded. Poor Coach — he couldn't pull me as he had no replacements.
Miraculously, at the bottom of the last inning, we were trailing by only three runs. There were two outs and the bases were loaded — and who should come up to the plate but me? Here was my chance to redeem myself! The count quickly built to two balls and two strikes. My teammates implored me to "Just meet the ball, put it in play." I hunkered down with a determination driven by fear of what might happen to me if I didn't get on base. The next pitch: swing and a miss… STRIKE THREE! Game over.
The boos of the crowd and my own teammates and coach were deafening. It was one of few times in my life when suicide seemed to be a viable choice. However, there was one clear, strong voice I could hear among all the boos. This special fan had arrived after the game started, as he often worked late to provide for his family. That voice sang out, loud and clear, "That's all right, Paul. You'll get 'em next time." That voice belonged to my dad. At that moment, I felt his love like I never had before. It was warmer than any Louisiana night and stronger than any chorus of boo's. Somehow, deep inside I knew that, yes, I would "get 'em next time." Maybe not in baseball, but in so many other ways.
Thank you, Dad. I'll never forget that night. You're the greatest!

Podcast: Play in new window | Download (Duration: 3:55 — 2.9MB)