by Ann
Utah, USA
Our second son was born with a very rare and severe set of birth defects in the early 1970s. The most they could tell us was a paragraph from a book. All it told was: "Most children with this disorder never live past a year".
Matty was susceptible to many infections. He seizured constantly, sometimes for six to eight hours at a time. Then, because he was so exhausted, he went into a semi-coma for about 24 hours. His metabolism slowed down to the point he was even cool to the touch, and of course could not be fed. Why he never dehydrated and died during this time we'll never know.
Because of his seizures it often took me four hours to get one ounce of formula down him. Then seizing again, he threw it all up. I had to begin over. He required care 24 hours a day. The doctor at the time was of no use. He was simply surprised my son was still alive each time I brought Matty in for an infection.
My wonderful mother helped me care for him the first seven months, and then she very suddenly had a stroke and was gone within four days.
Within a week of my mother's passing, the Relief Society president from our Mormon ward came to me and said, "We have chosen 10 ladies that would like to help you care for Matty."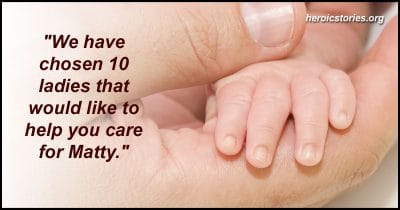 In those days there was no "in-home nursing care". So for the next seventeen months, every other night I took him to one of their homes. They cared for him while I got a full night's sleep. I picked him up in the morning and brought him home. If I failed to arrive at one of their homes on schedule, they called to ask, "Where is our Matty?"
Then at 23 months old he quietly slipped away during a time when his metabolism was slowed down.
Matty was a gift, in his way. He taught me things I could never have learned any other way. I believe he was here not for anything he had to accomplish, but for the things we needed to learn. He brought our friends and neighbors closer.
All who cared for him expressed that he brought a special feeling of peace to their home. Indeed, he was an incredible little child who radiated something celestial that all around him felt. These dear ladies and their families were always so kind and loving to us and to Matty. They were indispensable to us all.
It was the sort of trial one would never ask for, nor want to go through again. But *never* would I trade the experience of having that special little spirit in our home, family and community.
Originally published as HeroicStories #682 on Dec 25, 2006

Podcast: Play in new window | Download (Duration: 3:44 — 3.4MB)