by Ian Chai
Selangor, Malaysia
My wife met Andrew through work, and he was very helpful to her when she went through a tough time some years back. He was like a big brother to her, and she affectionately calls him "The Bear."
In 2004, The Bear himself went through a traumatic time, so when his friend "Len" invited him to the Penang (Malaysia) beach resort he managed, The Bear gladly accepted his offer.
After arriving, he met Len to go for a walk on the rocks next to the beach and look at the birds and scenery. As they were leaving, Len mentioned an unexpected personal crisis. The Bear sat down in the lobby with Len and discussed what he would do next. That may have saved their lives; the next thing they knew, the 2004 Asian Tsunami struck!
This hotel was sheltered from the full brunt of the tsunami by a hilly outcropping. The wall of water came speeding past the beach, and crashed at the edge of the hotel lawn. Soon afterwards, battered survivors from a nearby beach were brought to the hotel by rescuers.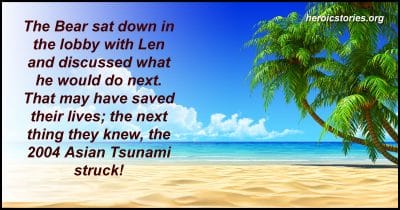 The hotel's emergency response team was overwhelmed. The doctor on duty could not be reached, and may have been swept away, so The Bear told Len, "You deal with the injured, and I'll deal with the shock cases!"
One person after another was brought in. Some had obvious injuries — bloody limbs, etc. — while some had internal injuries and many were in shock. One girl was in such shock that only a slap from her father could snap her out of it.
One Arab lady in full black burka was brought in, obviously in deep shock. Her boat had capsized and she had been flung into the sea. The Bear realized she was about four months pregnant.
Stabilizing her and saving the baby was his main priority. Mindful of religious sensitivities, he recruited two female tourists to hold her and calm her gently while he searched for her husband. Fortunately, the husband had also survived.
A beach boy came in with one foot snapped completely backwards, but he was in such shock he kept walking around! The Bear had to convince him to sit down.
The Bear spent the next hour or so helping one victim after another until the overstretched emergency professionals finally arrived. It was only afterward, when he went back to his room, that he the enormity of what had happened hit him, and the tears started to flow. He told me a few days later that his own mentor was on the Andaman Islands, at a scientific site which was totally wiped clean.
Even as he was recovering from a personal crisis, his first thought was to help others. True to form, The Bear is a little embarrassed to be regarded as one of the heroes of 26th December 2004. As many tsunami victims discovered, it's a lucky person who knows The Bear.

Podcast: Play in new window | Download (Duration: 4:14 — 3.9MB)
Originally published as HeroicStories #644 on Dec 24, 2005