by The Mom
USA
I'm close to 40, raised old fashioned, and frequently mourn the loss of a time when people took care of one another. I wonder if my three sons will be the gentlemen I try to raise them to be.
Mid October, 2010 I had to get my youngest son from school drama practice. I buckled my daughter in her car seat and took off like a herd of turtles. First stop: the closest air pump as I had a tire going flat. I filled the tire with my last dollar.
Once out of the gas station, POP!, the van jerked, then thump, thump, thump. Sigh. The tire is 100% flat and I'm out of cash. OK, I can change a tire.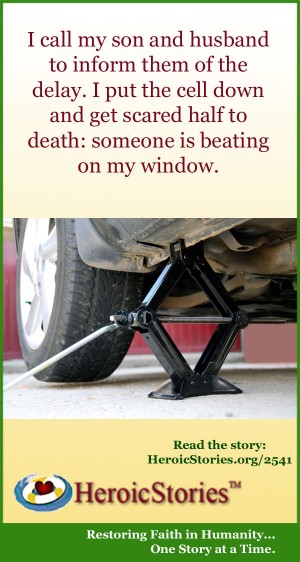 However… the l'il one has been sick since she was born and when she's *this* sick, I can't leave her unattended beyond a couple minutes. I have to be ready to assist her with any problems. AAA phone call done, I wait for my temporary champion in a tow truck and grease-smeared hands to help change the flat.
I call my son and husband to inform them of the delay. I put the cell down and get scared half to death: someone is beating on my window.
It's a young African American man. I freak because where I'm broke down is not the best place for safety. He asks if I need help. I nervously told him I have assistance coming. The area — not the person — made me nervous, he was well-mannered and polite.
His response, "Yeah, but I'm here NOW!" I took all the factors into consideration. Sick child, another child stranded, husband working too far away to help, van on a busy street, still half an hour wait for AAA.
I thanked him and told him I couldn't afford to pay him.
He chortled and told me he didn't ask for money.
Together we worked to replace the tire with the spare. He did the majority of it, since I had to watch my daughter. In under 15 minutes he had me ready to drive. When I asked him his name, he said Tracey. I thanked him appreciatively for the help he had given. He walked off before I could say anything else. I passed him a minute later, and waved thank you again as he smiled and waved back.
I seriously thought chivalry was dead. Here a young man, young enough to be my son, stopped to help a complete stranger out of the blue, for no reason at all.
Now I know I might not ever get to tell Tracey's family they should be proud of their boy. But I can put this story out there, in hopes it might reach them. I can be grateful for Tracey showing me something I needed to learn, and giving me a little more hope about today's young men.
Thank you, Tracey, your actions meant a great deal to me.
Originally published as HeroicStories #826 on May 13, 2011