by Deborah Luper
Eagle River, Alaska, USA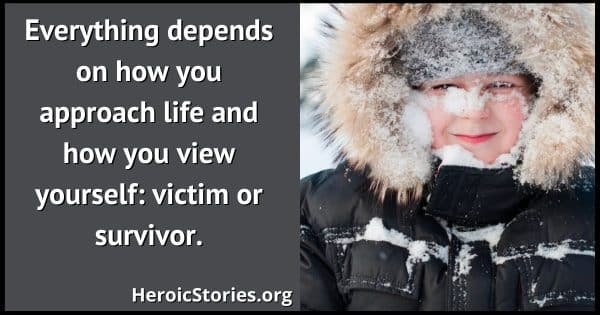 ---
In the late 1980s, I was a single mother in Alaska. I was weighed down with financial and emotional challenges that seemed endless. There wasn't a day that went by when I didn't think that my life was tough, horrible, or profoundly sad. I had forgotten how to see the positive side of things.
One Sunday at church, we had a speaker. Her name was Dr. Edith Eger. Dr. Eger turned out to be a tiny woman with an incredible, larger-than-life presence. She was a practicing psychotherapist and professor of psychology at the University of California San Diego, and an Auschwitz survivor.
Being a survivor was the main focus of her message. She was in her teens when her family was forced into the concentration camps. She and her sister were separated from her mother. They watched her disappear into a separate building. Later they learned that the ashes raining on their heads that day were from bodies being incinerated, bodies that included their mother.
Edith was a child prodigy in ballet, her sister in music. When the Nazi's learned that Edith could dance, she was forced to dance for them. The pain of performing for the very people who had killed her mother was incredibly galling, but she knew she had to perform to survive.
Edith's sister fell ill from the horrible conditions. Edith knew she had to do something to save her sister's life. She risked death climbing over a razor wire fence to get carrots from a nearby garden. Although a guard saw her return, he averted his gaze.
When Allied forces liberated the camp, Edith had a broken back and weighed 40 pounds. She had learned a great deal about survival. She learned that everyone has the power to transcend their own bad situations. She consciously decided to reject the title "victim" and claim the word "survivor" instead.
She spoke about changing the present since you cannot change the past. Too many people dwell on the bad, and not on the positives. They accept victimhood and do not fight to free themselves. Then they sink deeper into despair and hopelessness.
I watched her interact with the congregation. I became aware that she had noticed me. Even while she continued speaking to those around her, she reached back and took my hand. When she turned her attention to me, it was absolute. Her caring was genuine.
I don't remember her specific words, but I do know that she turned my life from dark despair to one of hope and achievement. I am still a single mother. I am a successful, happy woman with a successful, happy son. We face our challenges, but they no longer dominate our lives.
Dr. Eger dedicated her life to teaching people how to approach life from a positive perspective no matter how dark the world looks. Nothing is as hopeless as it appears. Everything depends on how you approach life and how you view yourself: victim or survivor.
(Dr. Eger wrote an inspiring book titled The Choice: Embrace the Possible. –Ed.)
Originally published as HeroicStories #167 on Aug 11, 2000

Podcast: Play in new window | Download (Duration: 4:32 — 4.2MB)