by Lori Schwingshakl
Wisconsin, USA
In August 2001, I bid on and won an online auction for a back-to-school outfit for my 12-year-old niece. The clothes were a pair of like-new girls' embroidered jeans and a matching top. Due to hard times in her family, my niece didn't have a lot of nice things. Also, she wore a hard-to-find size, so well-fitting clothes were usually beyond what her parents could afford.
I was tickled to find a trendy, fashionable outfit — the kind all girls her age like — for a bargain! The total, including shipping, was under $15. I paid promptly, exchanged friendly e-mails with the seller telling her a little about my niece, and waited for the package to arrive.
Two days later, an e-mail arrived. The seller, "Kris", said she had inadvertently mailed my package to the wrong address! I asked her to see if they'd send the clothes back — after all, they had to know they hadn't won that outfit.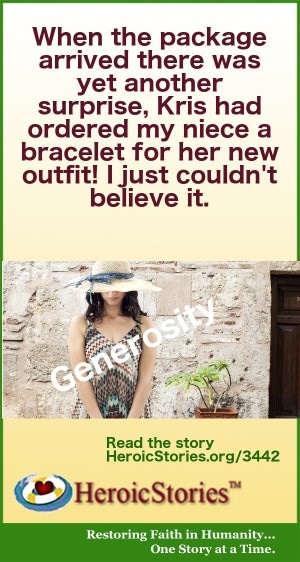 Kris replied that the mom said her little girl just loved that outfit, and Kris just couldn't disappoint her by making her mom return it. I was disappointed, but I figured I'd get a refund and that would be that.
The same day Kris e-mailed she felt terrible for what had happened, and didn't want my niece to be disappointed. To make it up, she asked me to go to an online store where I could purchase the same or a similar outfit, new, at her expense.
When I saw the prices at the online store, I knew I wouldn't take her up on her offer. The top alone cost more than I'd paid. The jeans were twice that. While I certainly appreciated the gesture, I wasn't about to ask Kris to pay more than three times my bid because of an honest mistake.
Before I could respond, yet another e-mail arrived.
This time Kris was apologetic, saying she shouldn't have put me in the uncomfortable position of getting new clothes to correct her mistake. She had already purchased the outfit and sent it to my address.
When the package arrived there was yet another surprise, Kris had ordered my niece a bracelet for her new outfit! I just couldn't believe it. This person I'd never met had spent almost $60 on my niece so she'd have some nice school clothes.
I subsequently found out that Kris spends her time and money on "less-fortunate" kids in the apartment complex she manages. Kris sells her daughters' clothes as they outgrow them, using the proceeds to do things for other kids. She took her daughter and another girl to an N'Sync concert. The little girl had a difficult home life and Kris wanted her to get out, be a kid, and have fun.
I'm sure Kris' kindness has given many little girls who needed it a boost. I feel so lucky to have met such an incredibly generous person.
Originally published as HeroicStories #347 on Oct 10, 2002