by Eric
Michigan, USA
Some years ago my fastest route across Florida to get to my parents' home was on Interstate 4 through Orlando, which had heavy and dangerous traffic. Often I saw or heard accidents, and my parents worried about me driving through that area. But I knew the roads, the cheapest place for gas, and exactly where all the rest areas were, so I wasn't all that worried.
One night, at my cheap gas stop shortly before I reached Orlando, a stranger with an accent asked me a question. His companion, a woman with an Irish-sounding accent, added details. They had gotten married the previous day in Ireland, then flown through the night to Orlando via New York, and rented a car to drive to their hotel for their
honeymoon.
But on the way, they misunderstood a direction, missed a turn, and ended up on the Interstate headed out of town. They were 20 miles from town.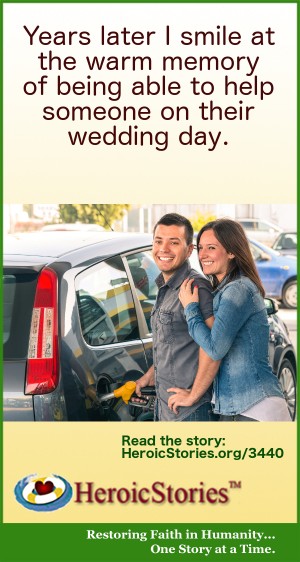 The groom was Italian and had spent years driving on left side of the road, but now had to drive on the right. I could imagine how difficult it would be simply to drive in a foreign city in a rented car. I knew I couldn't give him directions that he was in any condition to follow. No doubt he was fatigued from a day and a half without sleep, and maybe little enough sleep the previous night. Weddings can do that.
Their simplified map showed they had driven past their hotel — and it was only about a mile or so off the freeway and out of my way. As a rule, I avoided leaving the Interstate in Orlando on a weekend night, but I made an exception and led them to their new doorstep.
When I said my goodbyes, they tried to push a thick wad of bills to me, but I refused. I said it was a wedding present, and that they could help someone else down the line, if they wanted to. I just couldn't take that money, even though they tried to insist, and my eyes bugged out at the sight of at least one fifty dollar bill and a hundred on top
of the wad.
Even though my car was ten years old with 120,000 miles on it, it felt *great* to refuse the money. I don't know how much was there, but it wasn't worth the satisfied feeling I had for the rest of the drive to my parents' house.
Years later I smile at the warm memory of being able to help someone on their wedding day. I hope they are as happily married as I am now. Sometimes a minor inconvenience for you can mean a major problem solved for someone else. Sometimes enduring a minor inconvenience can mean solving a major problem for someone else.
Originally published as HeroicStories #351 on Oct 24, 2002