by Janet McAllister Hounsell
Conway, New Hampshire, USA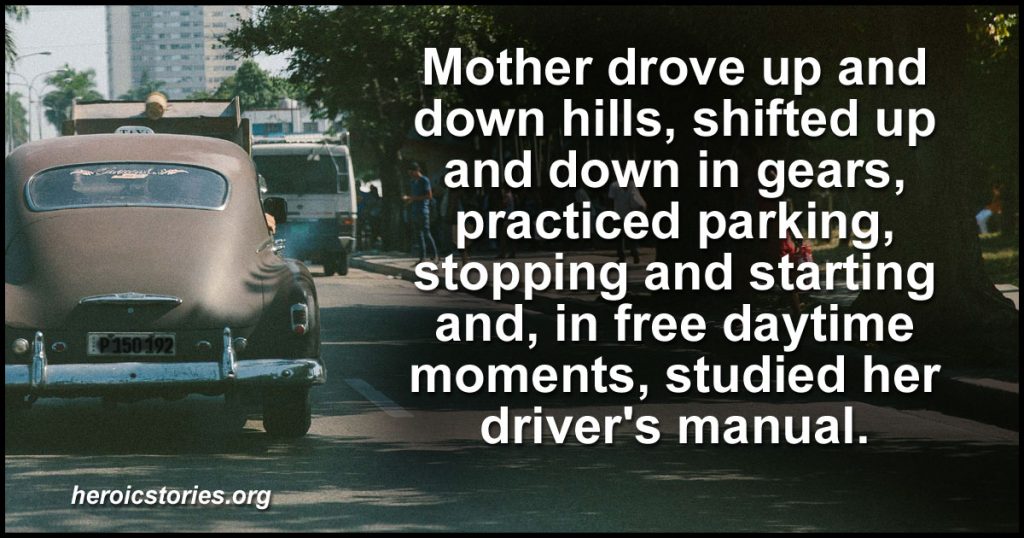 It was perhaps just one small step for womankind, but my Mother became a hero to me when she got her driver's license.
Maybe not all men were adverse to their wives learning to drive, but plenty of them were. In the 1930s, the family car was unquestionably the property of the husband and very few families had more than one vehicle. It was probably a "power thing," but many men didn't see any need for their wives attaining such freedom. Goodness, not long before, womenfolk had revolted and bobbed their beautiful hair!
Dad was a mechanic and Mother a shop clerk. I was the only child, about nine years of age at the time. We rented the downstairs of a big house on a tree-lined street in a good-sized city in Vermont. Part of the rent covered the use of the "garage" on the property.
Dad had a late model Nash car of which he was very proud. Unfortunately, the "garage" was merely a converted former railroad car barn. Not only did the back of the car stick through the doors by a foot, making it impossible to lock the building, but the structure was so narrow one could not open the car door to get out! Dad got permission to cut a door into the side of the building. It was still pretty tricky to drive the Nash in, or back it out, however.
Dad was not a cruel man, but it was obvious that he wasn't about to teach Mother to drive. She was not a terribly assertive woman, so I was a bit amazed when I discovered that she waited 'til Dad was sleeping, then she "borrowed" the car keys and drove all over the city!
Of course it was against the law for an unlicensed driver to do this. Still, Mother drove up and down hills, shifted up and down in gears, practiced parking, stopping and starting and, in free daytime moments, studied her driver's manual.
When she returned, turning off the car lights as she drove into the driveway, one can only imagine how she felt. Would "he" be awake and justifiably angry? Would I have awakened and called out for her? Once I accidentally found out what was going on, I would stay awake until I heard the car returning safely, but Dad slept the sleep of the just every night.
I'll never forget the look on her face — or his! — the night she served up dessert along with her new driver's license and offered to drive Dad downtown to see a "picture show"!
Without even meaning to, Mother taught me that females were NOT secondhand citizens and, I decided, anyone with a little gumption could achieve her goals!

Podcast: Play in new window | Download (Duration: 4:16 — 2.0MB)