By Jennifer Schrader
Bowie, Maryland, USA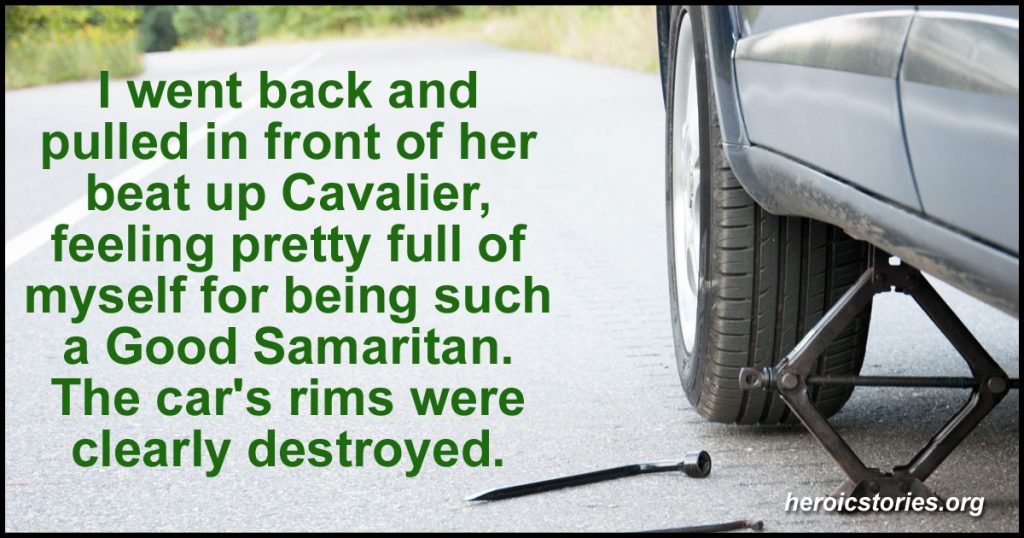 Recently I left work for a quick lunch, and on the way I noticed a car limping off the highway entrance ramp with its right two tires flat. I glanced at the driver on the way by. It was a woman, so my worries about safety lessened. I went back and pulled in front of her beat up Cavalier, feeling pretty full of myself for being such a Good Samaritan. The car's rims were clearly destroyed.
Though I'm a woman myself, I'm an engineer and tend to look down on women who do all the "feminine" things. I took one look and wrote her off as helpless and inept: she had long, wavy red hair, pulled back with a big clip. She had on a satiny blouse and black jeans with lace. She wore five inch black heels. Her nails were done. "Sigh," I thought.
It took four hours to get her back on the road. In that time I learned many things.
She had nearly no money, but she didn't complain and she didn't throw expensive new wheels on her credit card. She picked up the phone in a strange town and started calling junkyards. While we drove she told me that she'd ruined her tires trying to get away from an eighteen wheeler that was merging into her, unaware she was there. She admitted she probably reacted strongly because fifteen years before, she'd been crushed by a truck and had spent seven years in a wheelchair. We brought her poodle with us in the car, a sweet dog she had rescued from extreme abuse. She mentioned that she'd also had to learn to write right-handed late in life; she lost much use of her left arm when she was shot in a robbery. She rolled up her sleeve to show me an impressive scar.
When we got back to her car, she pulled on a pair of coveralls, yanked out a jack and lug wrench, and in her spiked high heels proceeded to kick the lug nuts loose. She said she did all her own work on her car. When we discovered the new wheels didn't fit, she cried in frustration for about thirty seconds, and then we were off to get another set from another junkyard. When she finally finished fixing her car, she took off her overalls, stripped off her plastic gloves, smiled at her hands and said, "It's silly, but I really do hate to break a nail." The last I saw of her, she was heading back to the first junkyard to get her money back.
This woman who I'd written off so quickly was capable, spirited, resourceful, kind, and brave. I stood by while she worked magic, entirely helpless to do any more good to her than simply drive her around. She phoned me when she reached her destination to thank me and say she'd gotten there safe, and I wanted instead to thank her for how deeply she inspired me.

Podcast: Play in new window | Download (Duration: 4:11 — 2.0MB)