by Jenny Koester
Florida, USA
I live in the tropical environment of Sarasota, Florida, where sudden and often fierce rainstorms can literally come out of nowhere. Unsuspecting souls, especially people who are not from around here, would never know to bring an umbrella with them each and every sunny day.
One beautiful afternoon in August, 2002, my mother, Connie, and I were out in her car, traveling from errand to errand. It was 95 degrees out when black clouds appeared overhead, casting a gray coolness over the day. Thunder began to roll.
With a blackout rainstorm you never know what will happen, so if possible it's best to get home and out of danger. Thus my mother headed for home through the fierce rain. While stopped at a red light she noticed a figure over to the side of the road — someone was huddled under a tree by the bus stop bench.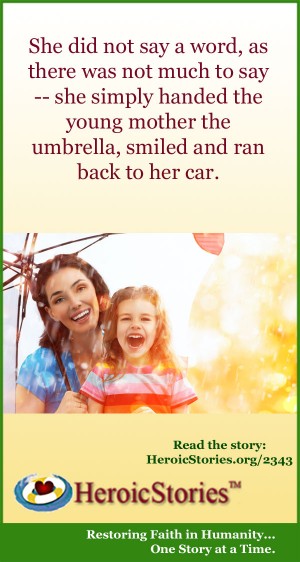 Looking closer, she came to see that this was a young woman, crouching low to protect her young daughter as they waited for the bus. Perhaps she had been busy with other concerns than to remember an umbrella that morning, perhaps she simply was new in the area. Whatever the reason, she was now being soaked.
As traffic began to move again, my mother felt compassion, but was unable to think of what she could do. At the very next light, she turned to the left then circled back around the block to help these two young women.
As they came into view again, the young mother still covering her child with her own body, my mom pulled over and put the car in park. She grabbed her umbrella, and ran over to them. She did not say a word, as there was not much to say — she simply handed the young mother the umbrella, smiled and ran back to her car.
My mother circled the block one more time, worried that the child was now surely freezing. We were just able to catch a glimpse of the two stepping onto the bus. Not only does this young mother know to always take your umbrella in Florida, she has one to remember always.
I'm so glad I was able to witness this act of willingness and selflessness on my mother's part. I'm following my mom's example and now keep an extra umbrella in my car for rainy days. The compassion that was shared mother-to-mother that cold day warmed my heart; I look forward to warming someone else in need.
Originally published as HeroicStories #446 on Sept 22, 2003

Podcast: Play in new window | Download (Duration: 3:37 — 3.4MB)