by Sandi Pound
Lehigh, Florida USA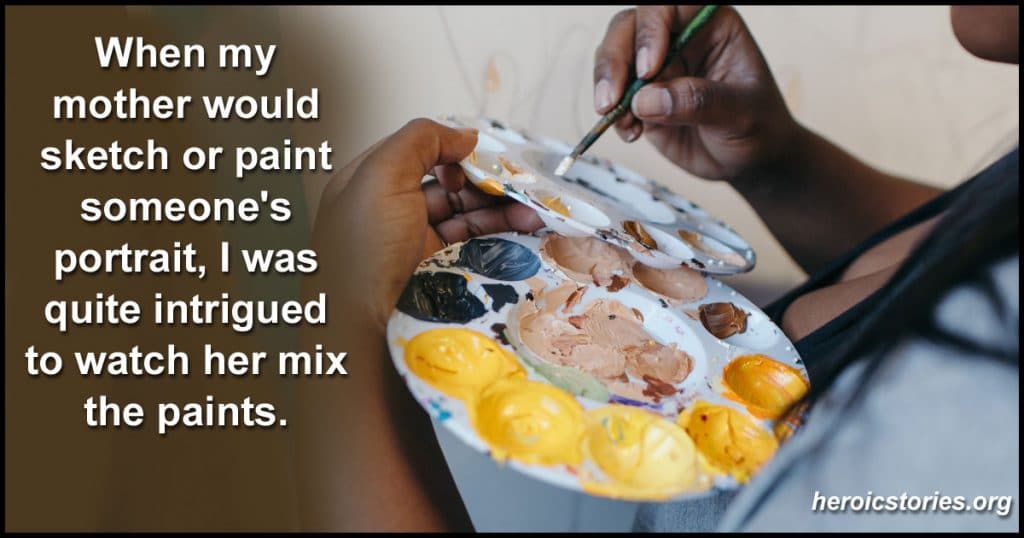 My mother's consistently sweet nature and genuine kindness made such an impression on me at such an early age, that I'm unable to recall even one day when I didn't absolutely adore being her daughter.
She earned a degree in Art after high school. Sketching and painting people were her passion. She always seemed to capture the essence of their personality in their portrait. She nurtured in all 3 of us children a love for color, shadow, and detail, with an appreciation for art.
Being the middle child, I grew to relish the one-on-one time with my mother when my older sister and younger brother were busy elsewhere. In those precious moments she taught me to see the days of the week and the months of the year in a rainbow of colors. Even now I still see bright yellow when I hear the word Thursday, or light green when the month of June comes to mind. I thought everyone did. I never questioned her. I accepted it as a trusting child is inclined to do.
When my mother would sketch or paint someone's portrait, I was quite intrigued to watch her mix the paints. She would lighten or darken them to just the right shade, then apply the paintbrush to the canvas. It always seemed like the final likeness made the person look beautiful. I wondered how she did this when some of them were really not beautiful at all. What did she see that I didn't?
One summer afternoon, after Mother signed the finished portrait of an elderly neighbor. I finally asked, "She has bony arms, gray hair, and a long nose, but you painted her real pretty. Why, Mother?" She replied, "I emphasize the best and minimize the rest. Consider it my way of seeing each person happied-up."
In later years I realized that her motto was something she also applied to daily living. Friends of all ages often approached me or other members of my family with similar remarks. "I have never heard your mother say an unkind word about anyone.", they'd say. Or I'd hear, "Your mother always has something nice to say to everybody, even folks who are not very likable." They were all basically saying, "She's the most pleasant person I've ever met."
Such comments not only touched my heart deeply, but they spoke volumes about the lady I was blessed to call my mother. I reflect on her motto and earnestly attempt to follow her wise example. It doesn't come naturally, but it does get easier to 'Emphasize the best and minimize the rest' when I become acquainted with people.
I knew at a very young age that I was quite blessed to be one of her children. She and my father set high standards and good examples for us to follow, and taught us things we could not have learned from books. Like, there is something beautiful in everyone and that it doesn't require an artist's eye to find that beauty.

Podcast: Play in new window | Download (Duration: 4:17 — 2.0MB)