by Carl H. Lock
California, USA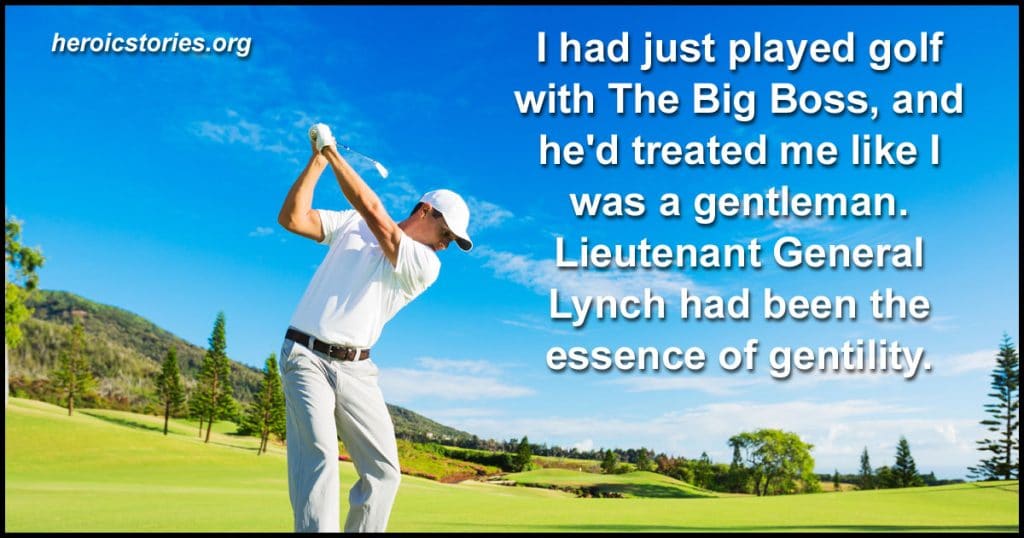 Golf is one of the greatest joys in my life. I'm semi-retired from the Navy Hospital Corps, and both play and teach often. I teach etiquette early because it was the first thing I learned about golf.
My first game was at the course on Marine Corps Air Station in Iwakuni, Japan. My friend Bob, another Corpsman, took me there one Saturday morning in 1962. We paid our fees, rented clubs, went to the starter's shack, and learned that two others would join us to make a foursome.
I was nervous as I hadn't a clue what to do. Bob was showing me the rudiments of the golf swing when two gentlemen walked up. One was older, distinguished and well dressed. His companion was younger, but still older than my 20 years.
The older man offered his hand, "I'm Chuck! How are you this morning?" I said I was fine, and gave my name as HM3 Lock. He chuckled. "We only need first names on a golf course."
"Carl, Sir." I replied. "This is my friend, Bob." Chuck introduced his companion, whose name I've since forgotten.
"Nice to meet you! You guys ready to play some golf?" "Yes, Sir," Bob replied. "But I should probably warn you, Sir, that Carl hasn't played before."
"How about that," Chuck replied, turning to me. "Welcome to the gentleman's game of golf! Just relax, have fun and we'll get you through it."
I took 10 minutes to get off the first tee. Chuck allowed me two "mulligans" plus the ball I finally hit. We played 18 holes, and Chuck coached me the whole way. He asked if he could call me "Doc," the nickname for any Hospital Corpsman serving with the Marine Corps. He was patient, and made me laugh if I started getting angry.
When finished, we shook hands all around and Chuck thanked us. I thanked him for the game and the lessons, and said I didn't understand why he was thanking me!
"Doc, the essence of golf is gentility. On the golf course, there are no ranks, no titles — it's all about you and the course. So golfers help each other, and treat each other with respect and dignity. I love this game and love to teach it. It's been a pleasure." Then they headed for the parking lot.
Bob asked, "You don't know who we played golf with, do you?" He pointed to the photographs on the clubhouse wall. In the third row, under President Kennedy, cabinet members and chiefs of the armed forces, was "Chuck." The title read "Lieutenant General Charles Lynch, Commanding General, First Marine Aircraft Wing, Fleet Marine Forces, Pacific."
I had just played golf with The Big Boss, and he'd treated me like I was a gentleman. Lieutenant General Lynch had been the essence of gentility. I've never forgotten his incredible gesture, and the example it set for me.

Podcast: Play in new window | Download (Duration: 4:08 — 2.0MB)
Originally published as HeroicStories #451 on Oct 9, 2003