by Arlo Paulsen
Utah, USA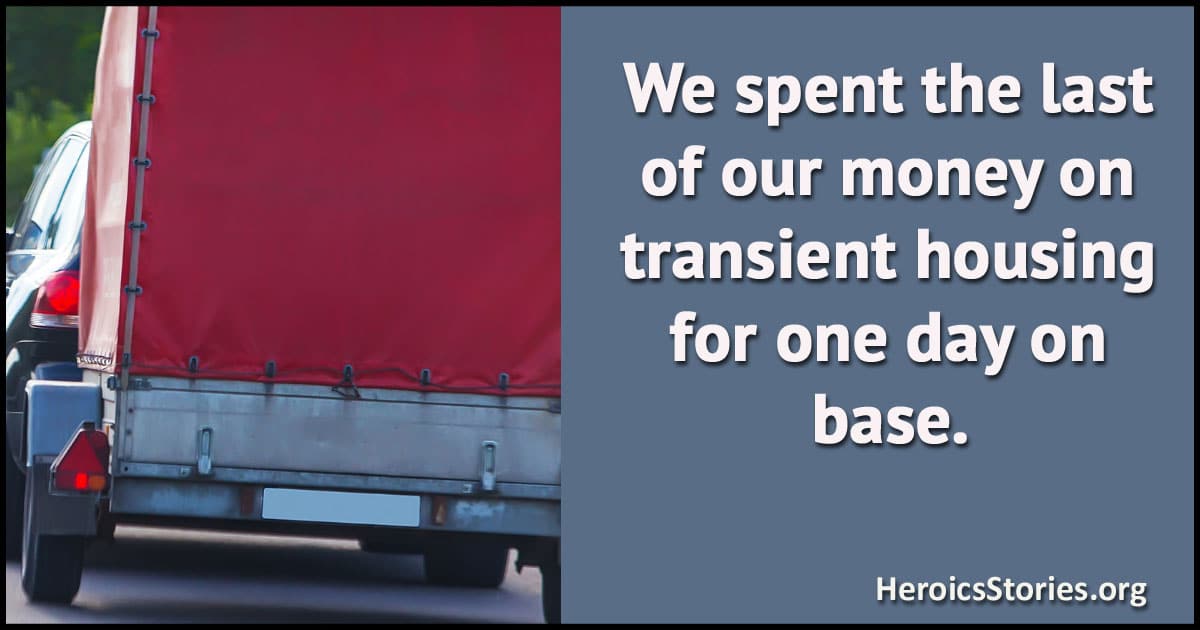 In September 1973, I was a 20-year-old enlisted man in the U.S. Air Force, and had just completed training at Chanute Air Force Base in Rantoul, Illinois. I'd been reassigned to Malmstrom A.F.B. in Great Falls, Montana. I planned to drive there with my wife Debbie, our 6-month-old daughter Shauna, and our dog and cat.
Finances were continually tight; we could get there if we spent no money on motels. We had counted on our deposit refund from our apartment to help. But it rained the day of the inspection; they kept our deposit for spots on the window. We were devastated, as we couldn't stay even long enough to clean the windows again. The landlord's inhumanity filled my mind as I hooked a rented trailer to our small car and we took off.
I drove, Debbie kept Shauna on the back seat in a car bed (car seats were rare then), and the dog and cat rode in a cargo area behind. After driving all day the sun was setting over the South Dakota landscape. Suddenly one side of the bumper, to which the temporary trailer hitch was fastened, tore away from the car frame and began dragging on the ground.
There was a horrible metallic scream, sparks flew over the top of the trailer, and our dog jumped into the car bed with Shauna, but I managed to stop the car and trailer without further damage.
We were stranded in the Badlands. I examined the bumper and hitch in the light from the back of the car. Things didn't look too bad, except we couldn't go anywhere until the bumper was repaired. I unhooked the trailer, bent the bumper upward, and we drove to the next town.
On the outskirts of town was a lonely gas station, with a man sitting in front as if he was waiting. We showed him the damage and explained our situation. He confirmed he'd been waiting, as he knew he would have one more customer that night. He welded the bumper back to the car and charged us $20, which I thought was about half what we owed him. I was thankful — as that left us with $5 to finish the trip. We drove back, retrieved the trailer, and took off again.
The rest of the trip was uneventful and we arrived at Malmstrom A.F.B. as the morning sun was rising. We spent the last of our money on transient housing for one day on base. That afternoon, we looked for a place to rent, but without much hope. Imagine our surprise when a real estate agent agreed to rent a two-bedroom house off base to us. He took just a promissory note, without interest, for the first month, last month, and deposit.
This trip proved to us that man's inhumanity to man may be a common theme in life, but even more common is man's compassion for man.
Originally published as HeroicStories #420 on 23 June 2003

Podcast: Play in new window | Download (Duration: 4:15 — 3.2MB)