by Nancy Creager
Washington, USA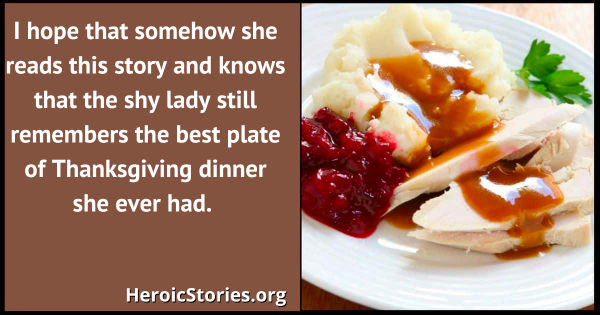 ---
I was a new bride in the late 1960s. I came from an small country where they had never heard about Thanksgiving. My husband, a sailor, left for maneuvers within weeks of my arrival. I was alone, with only rudimentary knowledge of the English language and a landlady as a contact for emergencies.
I settled into a quiet routine in a modest home on the outskirts of San Diego, California. I knew some English words and I ventured out some, but when people addressed me, I could only grasp a couple words here and there. I became shy and limited myself to my little house. I occupied my time walking to the nearby grocery and tending a small garden behind the house.
Next door lived a pleasant, quiet, and diligent lady. Our houses were separated by a short wire fence; we saw each other when outdoors, and smiled at each other. I was anxious to talk to her, but my broken English was an impediment.
I started to feel lonely and isolated. I retreated to watching TV, especially soap operas. The actions between characters started to shed some light into what they were saying. I eagerly searched for means to open the blinds to my new world.
In November, the cold breeze and rain arrived. One morning, I felt an unusual excitement. People walked faster, children played outdoors, and there was more traffic.
I saw the next-door lady by the fence. She spoke and somehow I understood: "It's Thanksgiving, a day to say thank you. We have lots of food. Do you like turkey?" I nodded yes. She continued, "Is someone visiting you today?" I shook my head negatively. "We are having a turkey dinner, would you like a plate?"
Smiling eagerly, I nodded yes. She motioned to me to wait.
Later, after knocking on my kitchen door, she handed me a huge, overflowing plate of food with a smile. It seemed a plate set specially for a TV commercial, with turkey, smooth-looking mashed potatoes, brown gravy, a red and nutty jelly, and some pieces of asparagus ornamentally placed.
I just stared at that plate of food for a long time. It was so pretty I had trouble disturbing the beauty of it.
What a great day that was. I was alone but felt surrounded by love. A quiet and unassuming lady had given me a plateful of kindness. That feeling is still overwhelming. I bring it to mind at times when I need to remind myself that there is compassion all around us, and sometimes it comes from unexpected places.
Soon after that, my husband came back, and we immediately moved to another state. Life became busy, and sadly, I never saw her again.
I hope that somehow she reads this story and knows that the shy lady still remembers the best plate of Thanksgiving dinner she ever had. It's my duty to honor her by continuing to pay it forward.

Podcast: Play in new window | Download (Duration: 4:32 — 3.5MB)
Originally published as HeroicStories #709 on April 20, 2007