by Russ Towne
California, USA
In early 2004 our daughter nearly died. She spent a month in the hospital fighting for her life. Since then, Stephanie has had to deal with the disease as well as many side effects of chemotherapy, steroids and other harsh medications. She has met each challenge, disappointment and setback with courage and class.
18 months later, in October 2005, Stephanie dreamt of a party and bonfire at the beach for her 16th birthday, with friends, relatives, and her beloved dog Ginger.
It took a while, but we finally found a good beach with the necessary attributes of allowing dogs and bonfires, plus easy access. Then a week before her party, Stephanie's disease flared up and 15 glorious months of remission ended.
Our friend Ian called the night before the party at 9 p.m. and turned our plans upside down. The small beach we'd selected, and the surrounding beaches would host a 30,000-person event on party night —
effectively closing them all.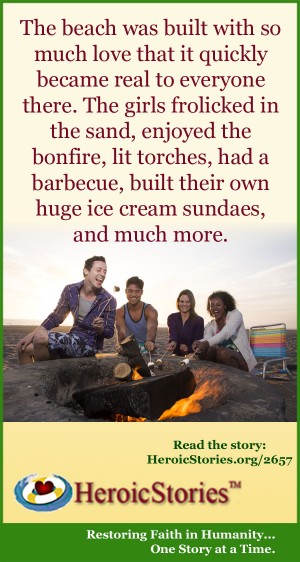 It was a party disaster in the making. We had researched: no other nearby beach would work.
Our daughter had her heart set on having her dog and a bonfire at the beach, but as usual she didn't complain. In her young life she's dealt with much worse things than a spoiled birthday party. This was just the final straw on a mountain of straws that broke the camel's back; she sat down and began to quietly cry.
Stephanie quickly decided she'd rather have the party at our home so she could have her dog and a bonfire. We called the invitees with the changed plans.
When people arrived at 3 p.m. they found small signs that read: "Welcome to Campbell Beach. Where Dogs and Bonfires are Welcome. Where the beach is small, the waves are so far away you must close your eyes to see them, but not so the love for Stephanie and her little dog, too. Happy Birthday Stephanie!"
Laid out before them was the smallest, goofiest beach imaginable, built with love. At a moment's notice Ian and his wife Jayme had created a beach on our concrete driveway. They had arrived hours earlier with a car loaded down with 660 pounds of sand, palm trees, beach toys, fish netting, Tiki torches and much more. Our son Brian and his friend Eric had helped set everything up.
The beach was built with so much love that it quickly became real to everyone there. The girls frolicked in the sand, enjoyed the bonfire, lit torches, had a barbecue, built their own huge ice cream sundaes, and much more. The birthday girl was lifted up and her face was planted into her cake despite her laughing protests, which started a hilarious cake fight.
As the girls laughed and played on the "beach" around the bonfire with our funny little dog, I felt for a moment that all was right in the world. I'm so very grateful to our friends for making our daughter's birthday wish come true.
Originally published as HeroicStories #656 on March 21, 2006

Podcast: Play in new window | Download (Duration: 4:35 — 4.3MB)