by Pat Meyer
New Jersey, USA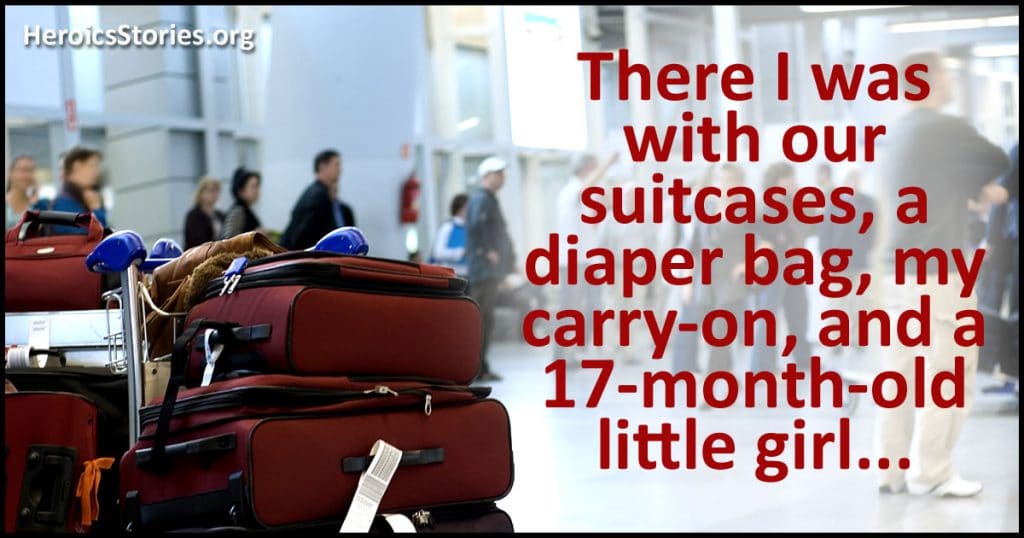 My husband was a first lieutenant in the U.S. Army during the Vietnam War. After he served a tour in Germany he was sent to Korea, and my daughter and I went to the "waiting wives" post in Salina, Kansas. At Christmas, my parents sent tickets for the two of us to fly home to visit Pittsburgh. The airport in Salina was adjacent to the post housing area, so it was easy to reach, but we had to change from one airline to another in St. Louis.
The St. Louis airport was a hub-and-spoke facility. We arrived at the far end of one concourse, and the connecting flight left from the far end of a different concourse, with only a short time to change planes. That included getting and rechecking our luggage.
There I was with our suitcases, a diaper bag, my carry-on, and a 17-month-old little girl — who was wearing a harness so I could keep track of her without holding her hand. My daughter tried to open every door we passed, to my chagrin. The heavy wooden doors didn't move for her until one opened — a men's room door! — just as a large Army sergeant came out. He looked at us and, though he couldn't know we also were connected with the Army, offered to carry her or the luggage for me.
Since he was wearing his dress green uniform, my daughter looked at him as if she knew him. She saw "one of daddy's friends" and was very willing to have him carry her. That was faster than giving him all the luggage I was carrying, so I asked him to pick her up, and we dashed ahead.
The plane had already started loading when we got to the gate, and I still needed to check in. While I got in line with my daughter and our luggage, the sergeant went to the desk and told them he had a woman and baby who were ticketed for this flight toward the back of the line.
The desk attendant called me out of line, checked my luggage, and allowed the sergeant to get on the plane with us to make sure we were settled comfortably. As I think about it now, I hope I remembered to thank that sergeant in all the confusion and hurry. Without his help, I doubt we would have managed to get on that plane.
On our hurried walk down the concourse, the sergeant told me he always tried to help others while at the airport. Instead of sitting in the gate area waiting four hours for a flight, he chose to try to make life easier for people. He didn't judge my chaotic situation, he didn't care who I was, or worry if I'd turn down his offer of help.
This is a story my daughter has heard many times, as we tell people about his kindness. She still enjoys hearing it, as does her daughter.
Originally published as HeroicStories #343 on Sep 26, 2002

Podcast: Play in new window | Download (Duration: 3:57 — 1.9MB)