by Cindy Robison
Taos, New Mexico, USA
When I first saw him, I was horrified. Nothing prepared me for the sight of his badly damaged eye. Martha had first told me about Rusty awhile back. He was a neighborhood dog that was allowed to roam free and he often came to her home for treats. When she saw that his eye had been damaged, she mentioned it to his owners. Their response was that they did not believe in veterinarians and they were going to just "let his eye dry up and fall out on its own." Rusty was a beautiful dog. He stood with his tail wagging, eager for attention, while frantically pawing at his mutilated eye. I knew that if he didn't receive some kind of medical attention he would probably die.
Soon after, weary of his owners' neglect, Martha loaded Rusty into her car and took him to her vet. He prescribed antibiotics and said that surgery was necessary. Her vet offered to reduce the cost of surgery for his owners. Martha was further distressed when his owners refused treatment and expressed annoyance at her perceived interference. She faithfully began giving Rusty his daily antibiotics.
That's when we decided to rescue Rusty. We knew we had grounds for Rusty being taken to the animal shelter because he was neglected and always running loose. I knew that if Martha and I took Rusty to the animal shelter on our own, there was a chance they wouldn't take him. If an animal is brought in by Animal Control, the shelter has to take the animal, even if they are full.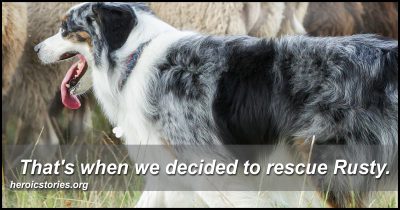 To prevent any backlash from the owners towards Martha, I was the one who called Animal Control. Rusty arrived safely at the animal shelter. We paid for his eye surgery and neutering, and also circulated a poster with adoption information. Martha visited him often. She struggled with feelings of fear and guilt. What would become of Rusty if he didn't get adopted? I reminded her that if she hadn't intervened, he probably would have died.
He was adopted several weeks after being at the animal shelter. Martha didn't find out who adopted him, but she was able to say one last tearful goodbye to him.
She called recently with more good news. She was at home when she heard a woman calling the name "Jack". When she went to her door, there stood Rusty. She found the woman who was calling out and learned that Rusty was now One-Eyed Jack. His new owner was working construction on a nearby building and Rusty, or Jack, had gotten loose. Martha was elated that she had been able to see Rusty again and learn of his new life. We talked about how One-Eyed Jack, when returned to his old neighborhood, came to her and not his previous owners.
I think he came to say, "Thank you, Martha, for caring for me, for saving my life and for helping me to find a good home."
Originally published as HeroicStories #224 on Aug 9, 2001

Podcast: Play in new window | Download (Duration: 4:03 — 3.8MB)