by Bob Blees
Missouri, USA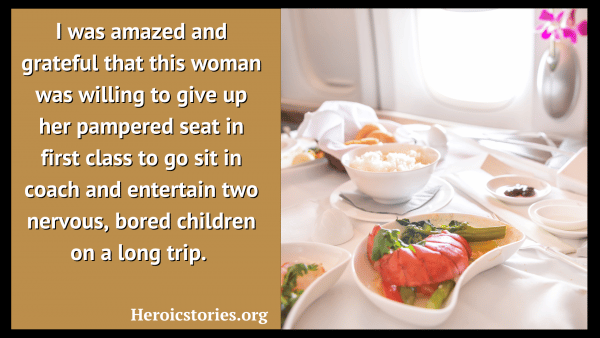 It had been a long, hard week, and I was heading home one day in 1994. I was a computer consultant specializing in on-site training, which meant I was a road warrior. My work "week" normally started Sunday morning, when I caught a flight to wherever I would teach the next week, and ended with a flight home on Friday, arriving home around midnight.
Trying to be a good trainer was rewarding but exhausting. Anyone who has taught knows that you have to be on your toes all the time. You need to stay tuned in and responsive to your students. By Friday evening, I was pretty well worn out.
One of the few perks of flying as much as I did was getting upgrades to first class without much difficulty. This flight was no exception. It was non-stop from Kennedy airport in New York to LAX in Los Angeles.
As I settled into my seat, I noticed two young unaccompanied children being seated by the stewardess in the front row of the coach section. They appeared to be brother and sister, about six or seven years old.
I groaned inwardly as I thought of five hours with two young children right behind me and no parents in sight. My worst fears were soon realized.
The flight attendants tried to keep an eye on the kids, bringing them coloring books and crayons. But it's hard to be six- or seven-year-olds cooped up and all alone on a six-hour plane flight. The flight attendants had a full plane to deal with. The noise level from the seats behind me was rising.
Then a woman in first class stood up, spoke briefly with the flight attendant, and went back and sat down with the children in coach. For the next four-plus hours, that lady talked and colored, told stories, and generally kept those kids occupied, happy, and quiet until the flight landed.
She seemed to be totally enjoying herself. When we finally arrived in LA, she turned the two children over to the flight attendant and disappeared down the aisle to the exit.
I was amazed and grateful that this woman was willing to give up her pampered seat in first class to go sit in coach and entertain two nervous, bored children on a long trip. She didn't make a big deal out of it; she just did it.
All of us seated close to those children were grateful for her intervention. Even better, the two children had a delightful experience rather than a miserable trip. Witnessing this, it really hit home to me that one person can make a difference, and it doesn't matter who you are.
Oh, did I mention I recognized her? The woman who moved from first class to coach to calm the children? It was Dolly Parton.
Originally published as HeroicStories #777 on November 3, 2009

Podcast: Play in new window | Download (Duration: 3:59 — 3.0MB)