By a day-care worker
California, USA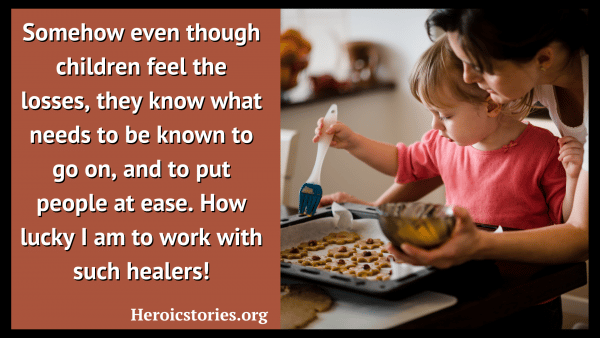 When I woke up on the morning of September 11th, 2001, it was to the sound of my mother crying, "We're being attacked!" In the kitchen, my family was sitting around my sister's radio crying. In the living room, the children of our in-home daycare huddled around the TV. Their educational skits were interrupted by emergency news — dark images of smoke and pain.
No cries to change the channel. No, they all sat staring blankly at the screen. My stomach lurched. How could anyone submit our world, especially our children, to this kind of terror? Skipping channels for an eternity, I found only distraught people, smoke, and rubble. I turned on a movie instead.
The children needed to see Bambi, or at least I did, even though I was 18 at the time. As I sat on the couch, I was buried by little people. All seven children, from one to three years old, found a spot on my lap or touching me.
That night, I went to donate blood. Amazingly, the line was out the door. Unable to donate, I returned nightly with goodies for the donors. Oh, how the children loved baking for "people helping everyone hurt from the airplane crashes." It wasn't our job to explain terrorists — the children wouldn't understand anyway — but they wanted to help more than anything.
The children made thank you cards for the donors, too. One elderly gentleman cried over his brownie and card. He had lost his daughter and granddaughter. I hugged him and cried with him. Everyone else in line began to cry. Finally we wiped away our tears, and people started talking, sharing their cards, smiling at pictures and misspelled condolences. Eventually people gathered around the older gentleman, arms around him.
Thursday, we went to an assembly in a park to show our support for the rescuers back East. The children arrived dressed in red, white, and blue. We baked cookies, packed a lunch, then decorated our three two-seat strollers. As we passed houses, people joined us. We filled that park and overwhelmed the organizers.
The older man from the Red Cross was there! He shared our picnic. I worried that seeing children might upset him. They were excited to have him with us, and all offered their cookies to him! He talked about the plane crashes, and told the children that his daughter and granddaughter were on one of them. One girl asked, "Oh, you're a grandpa?"
Instead of crying, he smiled, and the children hugged him. One three-year-old boy showed him his T-shirt. A two-year-old offered him her juice cup. As he left, one little girl shook his hand goodbye and said, "You know, even if they're both gone, you'll still always be a grandpa and a daddy." He smiled as he walked away.
Somehow even though children feel the losses, they know what needs to be known to go on and put people at ease. How lucky I am to work with such healers!
Originally published as HeroicStories #257 on Nov 29, 2001

Podcast: Play in new window | Download (Duration: 4:07 — 3.8MB)