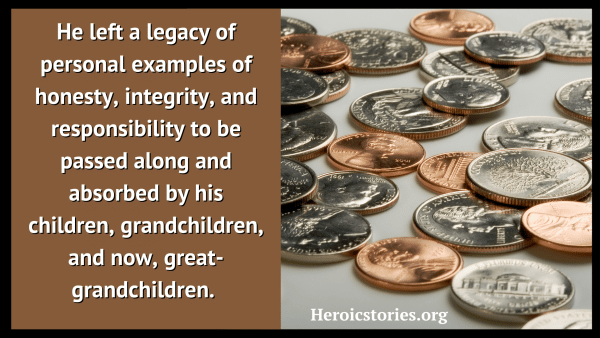 by Judith Cameron Wagner
Texas, USA
One of only two physicians in a four-county area, my dad worked at least 18 hours a day seven days a week. Twice monthly, while the other doctor covered the practice, he had free time from noon on Saturday to 6:00 a.m. Sunday. Our family trekked one Saturday monthly over winding, potholed roads to visit grandparents. Our return trip seemed endless.
Often, after early supper at grandmother's table, we three children were dropped at a movie so the grownups could indulge in adult conversation. When the movie ended, Mom and Dad picked us up for the long drive home.
One evening in the mid-1940s, the privilege of buying movie tickets was finally given to me, the youngest. The ticket lady smiled broadly as I announced my important position, and said I did a fine job! Smugly, I pocketed the change and led my older brothers into the theater.
Driving home late that night, almost home, with everyone else asleep, Dad interrupted my chattering to ask for the ticket change. I carefully counted it by the dashboard light, and as I finished, he turned the car around! Why?!?
I had received 50 cents too much change. We needed to return it.
All the way back, when we were so close to home? This late? Couldn't we just mail it, or take it next time?
Yes, Dad explained, it would be honest to send it or take it back next time. But although that would be easiest for us, the ticket booth lady must account for *all* money received. With money missing, she might be reprimanded or worse, lose her job, so we couldn't delay.
I fell asleep long before our car pulled up in front of the theater just after it closed. Dad woke me, saying that along with privilege came responsibility: it was my task to return the money.
I walked slowly to the ticket booth, smugness evaporated. She was there, counting money, face wet with tears. Timidly, I reached up, put the half-dollar on the counter. "Too much change… Daddy said… turned around…"
She smiled again, quickly wiped her face with her hands, and left the booth to hug me. She walked to the car to thank Dad. If the money hadn't been found, she would have lost her job, her family's only income.
Suddenly, my self-imposed embarrassment at "failing" my important task was transformed into a real understanding of how our actions may affect others in ways not apparent to us. I was proud of my daddy and told him so.
Now, almost 60 years later, I realize how tired he would have been, and how tempting it must have been to just go on home and get a bit of sleep before resuming his duties. But "the right thing" was at the core of his beliefs, and so was teaching the right thing to his children.
Dad died while taking care of yet another stranger, but he left a legacy of personal examples of honesty, integrity, and responsibility to be passed along and absorbed by his children, grandchildren, and now, great-grandchildren. His half-dollar philosophy lives on.
Originally published as HeroicStories #625 on July 22, 2005

Podcast: Play in new window | Download (Duration: 4:46 — 3.8MB)