by Cathy Weber-Zunker
Minnesota, USA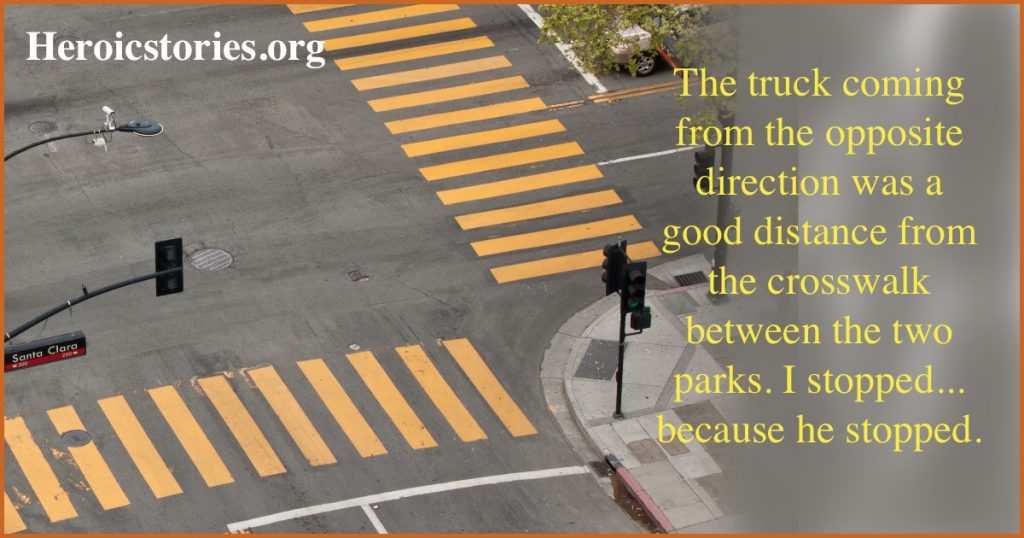 I didn't see the child… I didn't see anything at all except a plumbing and heating truck at a complete stop, on the opposite side of this busy street. It's a small town in Minnesota, with a park that's divided into two parts by a street. That street is an issue in our town; the park is gated and fenced for safety because of it.
The truck coming from the opposite direction was a good distance from the crosswalk between the two parks. I stopped… because he stopped. Checking the streets and crosswalk, I saw no one. I stayed stopped… because he stayed stopped.
Traffic that was headed for fast food lunches on this day in April 2006, was backing up behind me, as well as backing up behind him. We don't experience traffic backups often in our little town.
A gasp caught in my throat when I finally saw what the truck driver saw. As if in slow motion, I saw a child, appearing not yet to be 3 years old, smiling and unaware of danger. Without being noticed, he had escaped the fenced park and was running playfully onto the roadway. With ease the little boy could have reached out and touched the grillwork on the stopped truck.
The man in the truck watched as a red-faced, frantic young mother raced into the street. The child, enjoying the game with his mother, merrily turned and ran the other way in the bright sunshine — toward the middle of the street.
The man in the truck was now quickly out of his truck, like a linebacker with his feet planted and arms spread. The boy was rapidly surveying his options: his mother on one side, an imposing linebacker on the other.
The choice was easy. The little guy went rushing into the arms of his mother. I exhaled as the mother and child reunion took place, and the man got back into his truck.
With the child back in the safety of his mother's arms, I turned the corner onto Tenth Avenue, my eyes clouded with tears.
There was a young mother that day who had the privilege of taking her child home, whole and intact. There was a little boy, able to grow up. There was a plumbing and heating man who will rest well tonight, knowing that today he saved the life a child.
Then there were the rest of us — the ones who witnessed an enormous act of kindness. People from my little town' people who sat and watched someone save a life. Not one horn honked, not one driver yelled out of a rolled-down window — we all calmly and patiently helped save a life that day. The statement, "It takes a whole community to raise a child", means more to me today than it did before I encountered that truck driver.
Originally published as HeroicStories #694 on Feb 20, 2007

Podcast: Play in new window | Download (Duration: 4:11 — 2.0MB)