by Janet Hounsell
Conway, New Hampshire, USA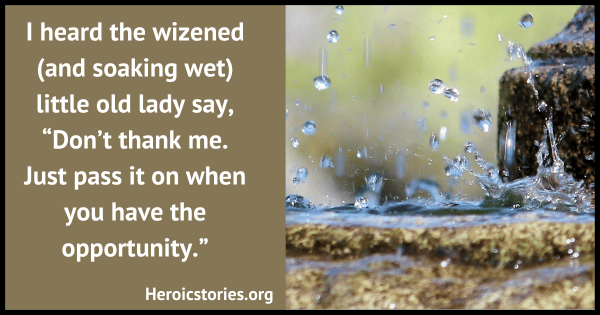 I live in a small New England village. One summer's day, I drove slowly along our main street as a horrendous and sudden summer shower threatened. The sky darkened and the wind whipped around warningly. I pulled to the side of the street. A rusticating pick-up truck pulled ahead of me into the next parking place. Open to the weather in its body were what was obviously the family's entire belongings: mattresses on end, baskets and boxes of clothing, and other household goods.
"Oh my, those poor people," I thought, observing children in the seat of the truck cab. They were obviously moving from one home to another and their belongings, humble though they were, were going to get soaked!
Just then a little old lady whipped by me and into the variety store before which we were all parked to wait out the storm. In minutes, she was out again, tearing the wrapping from a package containing a huge sheet of plastic. She busily rapped on the window of the truck and motioned the woman driver out, and between them they whipped that covering over the entire load in the body of the truck!
Rain came down in torrents and the wind whipped around in a demented fashion. Fighting the gale, the two women managed to weigh down its corners and edges, thereby providing protection for the little family's belongings.
Everyone back inside their vehicles, we sat out the brief storm. The sun broke out in all its splendor. I rolled down my window as the little old lady and the young mother emerged to meet at the rear of the pick-up. And I heard the wizened (and soaking wet) little old lady say, "Don't thank me. Just pass it on when you have the opportunity."

Podcast: Play in new window | Download (Duration: 2:57 — 4.4MB)