by The Customer
USA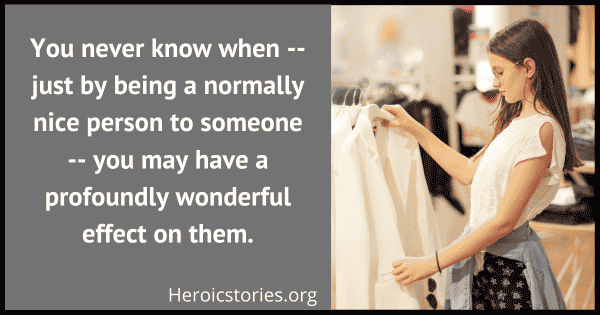 In early 2012, I saw a giant lump on my body after taking a shower. "Oh gosh," I thought (euphemistically speaking). "If it's that big, it must be everywhere inside me by now. There'll be no way to combat it." You see, people in my family get cancer. Then they die. Often quickly.
I mean, I'm not so old, so "two more years" seems like I'd be really cheated on lifespan. I love my job, which is non-profit work, really changing things and helping people.
But I don't have insurance. I work hard. But insurance costs in the USA have skyrocketed. I can't afford it. I figured, "I won't have any treatment." I was despondent, thinking I'd die a painful, awful death, soon.
I wasn't in denial.  Soon after finding the lump, I stopped into a Goodwill store for spare gardening shoes. Sometimes they have $100 shoes there for $8.00 — it's amazing. Standing on the aisle, I thought, "Wait! I might not need any more shoes than I have. I should leave."
I left, reeling.
Then I noticed that instead of dying, I was living. And I really wanted to live. Then a neighbor said, "Go to this clinic. They'll refer you to another clinic that does lots of charity cancer treatment."
I went. A seemingly endless series of appointments began.
During the initial appointments, before knowing if I'd qualify for charity treatment, still scared I'd die soon, I went to the mall. To celebrate the possibility of living, I'd buy something decent to wear. Specifically, jeans that weren't "mom jeans".
First up, a decent women's store. Two salesgirls on the floor. You might say they were California girls. Cute, young, seemingly preoccupied with their appearance. One girl began helping me find jeans.
She showed me several selections. After picking out several pairs, I tried them on. She popped back and gave me feedback… she didn't think they fit well enough. Sigh. She was right as well as honest.
Yes, they looked ten times better than mine, but for the price, not good enough. I tried on a sweater, but it was too big. She got another for me. I liked it and went to purchase it, still lacking decent jeans.
When the total rang up, I was shocked. It was on sale, half off! They laughed with me when I was excited about it, and suggested I look at that sale rack. I did. Didn't find another, but they were kind to suggest it.
What those girls did for me that day, they'll never know. They treated me like any other customer. They were helpful, talked to me, and genuinely laughed at my jokes, even though I was older and wearing mom jeans. They allowed me to feel like I was still normal, too.
I think of them as my California girls, gratefully, and find I pick that sweater to wear often. You never know when — just by being a normally nice person to someone — you may have a profoundly wonderful effect on them.
Originally published as HeroicStories #850 on 10 July, 2014

Podcast: Play in new window | Download (Duration: 4:31 — 7.0MB)