by Lucy Borer
Maryland, USA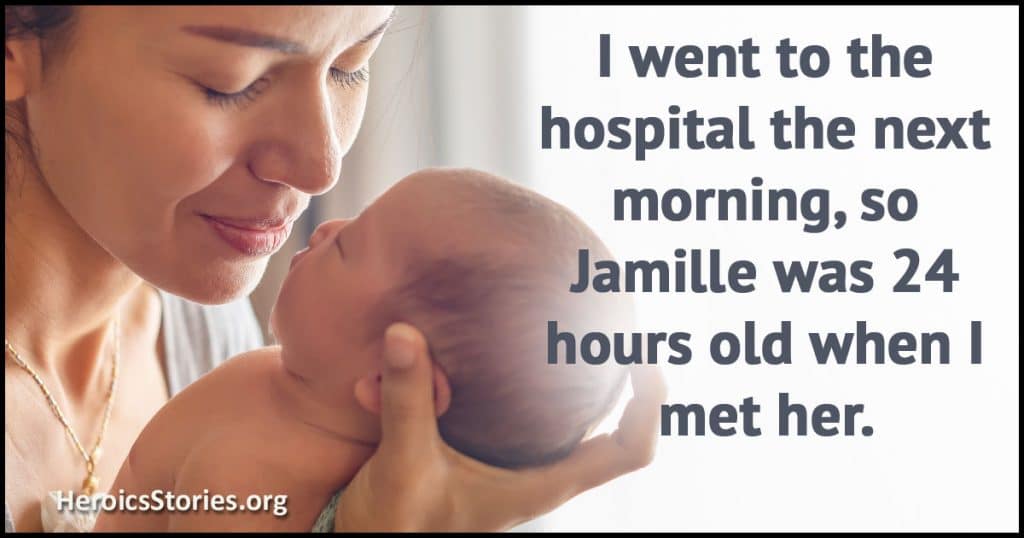 When I was growing up my mother talked to me about things I'd do for my children when I was married. I expected to have five or six children.
When I married Jim, I got pregnant right away and was very excited. Then I started spotting, was confined to bed and lost the pregnancy. I mourned 14 months; I couldn't get away from feelings of loss. Then one day I just decided to overcome it. However, my husband and I expected to get pregnant again.
Trying to get pregnant is incredibly frustrating. For six years Jim and I went through this while our friends' families grew; some had five children! All the while I felt an emptiness neither of us could fill.
One night the phone rang. One of Jim's graduate school classmates and her husband called. We were in Montana, they were in Louisiana. They had three children, were expecting a fourth baby and their plan in this particular pregnancy was to give the baby away. Her husband worked for the same nation-wide organization as Jim, and he had heard we were having trouble conceiving.
Would we like the baby? "Say yes!" I said. We decided to ponder the offer… but after doing so, we accepted. I reserved a flight five days before Beth's due date, to be there for the birth. Three days before my trip Beth called to say she was in the delivery room. She called again at 5:00 a.m. to tell us Jamille had been born. I flew out that morning.
When I arrived at the airport in New Orleans, I was picked up by family friends because her husband was out of town at a conference. I went to the hospital the next morning, so Jamille was 24 hours old when I met her. I had asked Beth to sleep with her. When I went into Beth's hospital room, Beth picked up the baby and handed her to me. We bonded immediately. I held Jamille all day, fed her and changed her diapers.
I stayed with their family for several days and then Jamille and I flew home. The next day I took Jamille to the pediatrician I'd picked before she was born. He was impressed with her weight gain.
When I got home, I called Beth to tell her. She was shocked to hear from me, as she hadn't expected to hear from us again. But we have always kept in touch with them. Jamille was born on the birthday of their oldest child and we exchange gifts yearly. We now live much closer, and Beth and I shared a trip to Washington D.C. one year.
Jamille is 13 years old now and we love her endlessly; I can't imagine living without her. Jim and I are eternally grateful for our daughter, and we deeply love the family that nurtured the idea to give such a precious gift to another couple.
Originally published as HeroicStories #405 on May 1, 2003

Podcast: Play in new window | Download (Duration: 3:55 — 3.2MB)