by Gabriele
Virginia, USA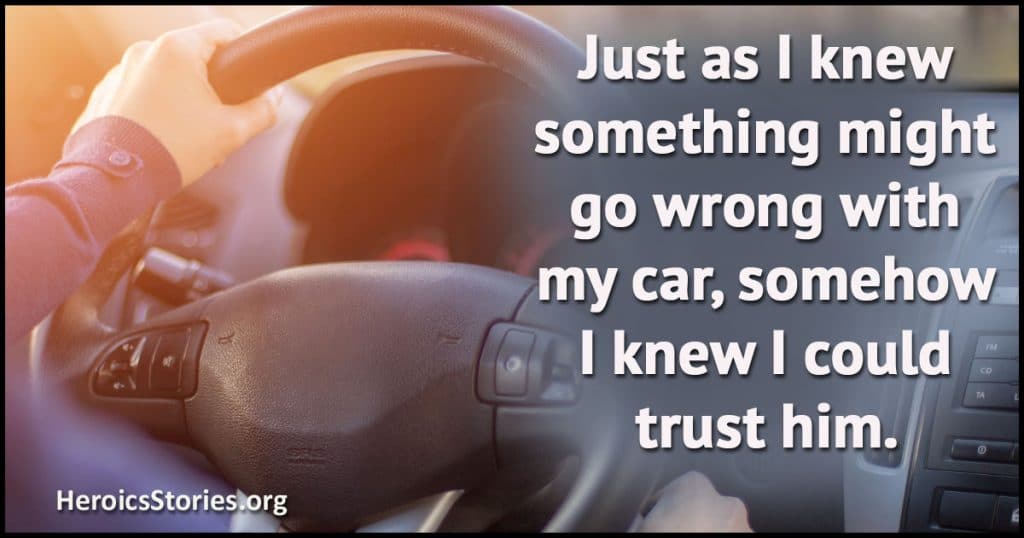 After finishing graduate school at Ohio State University, I moved back to northern Virginia. My father had just retired from the Air Force, and my family moved from Zweibrucken, Germany, to South Carolina. I hadn't seen my parents since they bought their new house and moved in, so I was anxious to go see them.
I left Alexandria, Virginia, early in the morning, in my 1986 Ford Escort. Somehow I knew my car might have a problem on the trip down south; the odometer had 140,000 miles on it.
Near Kenly, North Carolina, my car stopped dead in its tracks. Two young men stopped and offered me a ride, but I asked them to call the police for me instead. Then another car approached, and a kind-looking, older man stepped out.
He thought I was his son's girlfriend, whom I resembled. He said he also had a funny feeling — as though he was pulled into the opposite direction to see who was stranded by the side of the road. But even once he saw that I was not his son's girlfriend, he still offered to help.
The man identified himself as a Baptist minister. Just as I knew something might go wrong with my car, somehow I knew I could trust him.
He arranged for a tow truck to take my car to the closest garage, then asked me to accompany him to a hospital, where he was due to pray for some patients. He then took me home to put me up for the night with his family.
His wife and son were surprised to have a visitor, but were equally hospitable. The son did a double take when he saw me; I guess I really looked a lot like his girlfriend.
The next day, the minister drove me to the Raleigh airport car rental agency, so I could finish driving home. My car would be repaired while I visited my parents.
When I returned to Raleigh, the minister had arranged to meet me again. He drove with me to return the rental car, then to the garage to pick up my car.
When all this happened, I didn't have much money or experience. I don't know what I would have done if he had not come along. My dad made a contribution to his parish as thanks, but this man's kindness was beyond price.
Today, my husband and I try to pay this kindness forward. We both help people who are stranded by the side of the road, and at other times, whenever we can.
Originally published as HeroicStories #362 on Dec 2, 2002

Podcast: Play in new window | Download (Duration: 3:26 — 2.9MB)