by Jackie Gish
California, USA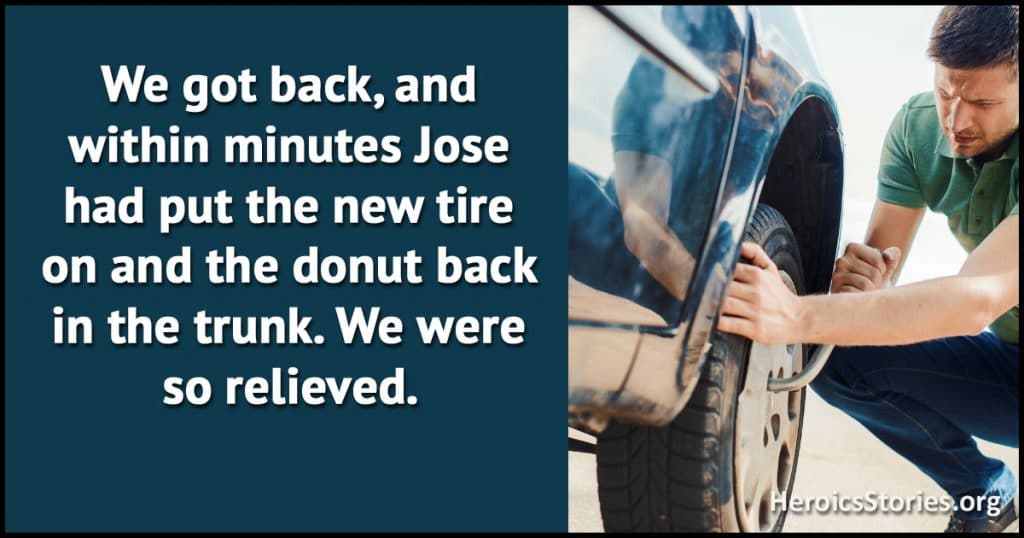 As our first partial return to normalcy after the pandemic, my husband and I planned a short trip to Yosemite (our favorite place on earth) for mid-May. We knew that this trip would be a bit different than normal (for instance, the shuttles weren't running), but we were really looking forward to getting away.
The plan was to drive from our home near Los Angeles on Tuesday, check in at our rented condo in Yosemite West, and then head to Glacier Point. The rest of the trip was to go into Yosemite Valley early on Wednesday and hike and then return home on Thursday.
All went well until we left the condo on Tuesday to head to Glacier Point. We hit a giant pothole, and as we turned onto the main road, realized something was wrong. When we got out of the car, we saw that the front tire was flat! My first thought was that we were really in trouble, as we had no cell service at all, and our short trip would be ruined. We are both in our 70s, and in theory we could change the tire to the donut, but it was going to be tough. We put the flashers on the car and my husband took everything out of the trunk to get to the donut. I thought it would be better to see if we could get someone to help us contact AAA. Just then, a couple drove up and asked what the problem was. When we told them, Tanner immediately said he would change the tire for us, and his wife, Allie, agreed. About 10 minutes later, the donut was on the car, and the wrecked tire was in the trunk. When I remarked that it looked like he did this for a living, Tanner said that he grew up on a ranch in Texas. We thanked them profusely and decided to return to the condo to see about a new tire.
After several unsuccessful attempts to get help, we contacted the management company for the condo. The owner, Matt, made arrangements for his maintenance person, Jose, to pick up the old tire and rim from us, get the tire replaced (in Oakhurst, about an hour's drive), and return it to us, all on Wednesday. Matt said to enjoy our time in the Valley.
Wednesday morning, we drove to Yosemite Valley slowly and carefully on the donut, parked, and hiked to the bridge at Vernal Falls. As we returned from the hike, I got a text saying that Jose would be back at the condo with our new tire by noon! We got back, and within minutes Jose had put the new tire on and the donut back in the trunk. We were so relieved.
In this time of deep polarization of our country, we were so fortunate to be helped to enjoy our time in Yosemite by three strangers: Tanner (and his wife Allie), Matt, and Jose. Thank you so much for restoring our faith in our fellow Americans.
Originally published as HeroicStories #894 on June 18, 2021

Podcast: Play in new window | Download (Duration: 4:13 — 3.3MB)