by Sharon Zeff
California, USA
On April 26, 2002, every parent's worst nightmare came true for me: my two step-daughters, Anna, 6, and Emily, 4, were abducted from daycare by their mother, who had recently lost custody. The police said it was not their problem — it was a "civil matter". It took five days to get them to write a report and six days to get the girls into the missing persons computers.
At first we thought it was just their mother going off and it wouldn't last long. But on May 8 their mother turned up without the girls. She was charged with contempt of court because she would not give up the girls' location. Anonymous members of a "children's advocacy" group were hiding the children.
For months nothing happened. The police wouldn't help. HeroicStories publisher Randy Cassingham suggested we send out a press release to get the media interested. My friend Mari, who works in public relations, wrote it, and it worked: Within one week the story was in our two major local papers; the next week it was on TV.
Finally Dan Noyes, an investigative reporter at our local ABC station, picked up the story and worked on it for eight weeks. On November 4th his report aired, and he uncovered the fact that the man who heads the advocacy group hiding the girls was a convicted child molester, which led to a major uproar in the group. Some members who knew where the girls were kept rescued them and brought them to the TV station. The group leader was arrested. More than five months after the girls were taken, we finally got the phone call saying we could come get them.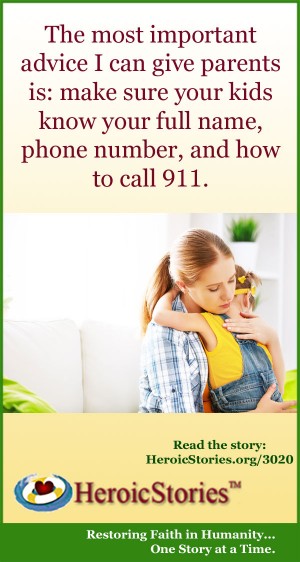 We went to the TV station and were brought up to the conference room where Anna and Emily were happily playing. When their father and I walked into the room Emily looked up at me with the biggest, brightest smile on her face and raced toward me. A hug never felt so good. Within minutes the girls were laughing and clamoring for our attention. They were happy and healthy and thrilled to be going home.
Parental abduction appears to only be barely a crime. The police don't care. We spent about $50,000 on investigators and lawyers. We furnished the police with about 700 pages of worthwhile evidence. They organized it into a nice binder. With the same evidence, Dan Noyes brought down the advocacy group and gave us back the girls.
"This is True" and "HeroicStories" were the first to provide media attention, and it helped a lot. Ultimately the girls' pictures were carried on about 12 web sites; about half were from concerned HeroicStories and TRUE readers.
We learned so much — all the hard way. The most important advice I can give parents is: make sure your kids know your full name, phone number, and how to call 911. And make sure they KNOW you would never want to be separated from them, regardless of what anyone tells them.
Originally published as HeroicStories #359 on Nov 21, 2002