by Cam Whetstone
Maryland, USA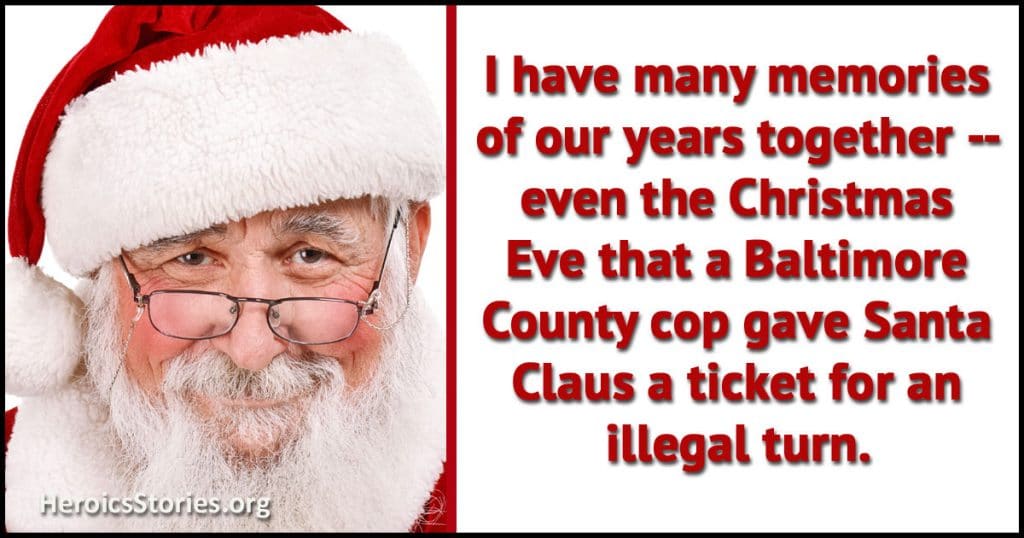 About 1987, my friend Skip mentioned he was volunteering as Santa at a Christmas party for Special Olympics children. He asked if my ten-year-old son, Charlie, could come and be an elf helping Santa. I asked, and my son agreed to go, and brought his friend who lived nearby. I thought it would do him good to do some community service.
Skip arrived in his Santa suit, without his costume beard and eyebrows. He had elf ears for both boys, and rubber elf shoes with point rolled up at the toe. The boys were soon ready and off the three went.
When Charlie and Erin returned home with Skip later that evening, they were really excited. They showed me some of their tasks, and proclaimed they had had a ball. When I asked if the kids were disabled, my son simply said, "No, Dad, they were just kids."
Skip said that coming Christmas Eve he would be Santa at the Kennedy Kreiger Institute for Children. Skip had also planned a trip through the children's and Aid's wards of a nearby hospital. He asked if the boys could come, and they were enthusiastic. I decided to go as an assistant to hold coats, boom box, etc.
Thus began a tradition that lasted about 12 years. After the first trip I learned to make balloon animals and carried a pocket full of balloons. I preceded Santa through the wards, making balloon animals for the children while they waited for Santa.
The following summer the boys were asked to do Grant-A-Wish parties as Alvin and the chipmunks, The Teenage Mutant Ninja Turtles, and other characters. Parades and special parties became part of our lives. And every Christmas Eve we went with Santa to Kennedy Kreiger.
One year a neighbor's granddaughters were visiting from Florida. We arranged to have a present for each child left outside on the porch. Santa put them in his bag and we knocked. Santa told the two girls he knew they weren't at home, so he had come by this house.
I have many memories of our years together — even the Christmas Eve that a Baltimore County cop gave Santa Claus a ticket for an illegal turn. Yet the tradition stopped a few years ago. My son and his friends were in their twenties, and the original Santa hung up his suit for the last time. For twelve years, we spent little — some balloons, some gas, and our time — but I haven't had the same warm Christmas feeling since. I miss the tradition.
I'm proud to have known Skip, an entertainer, magician… and Santa Claus. And to this day I remain so proud of my son Charlie, who truly enjoyed bringing Christmas joy to other less fortunate kids.
Originally published as HeroicStories #456 on Oct 27, 2003

Podcast: Play in new window | Download (Duration: 4:00 — 3.4MB)