By The High School Student
USA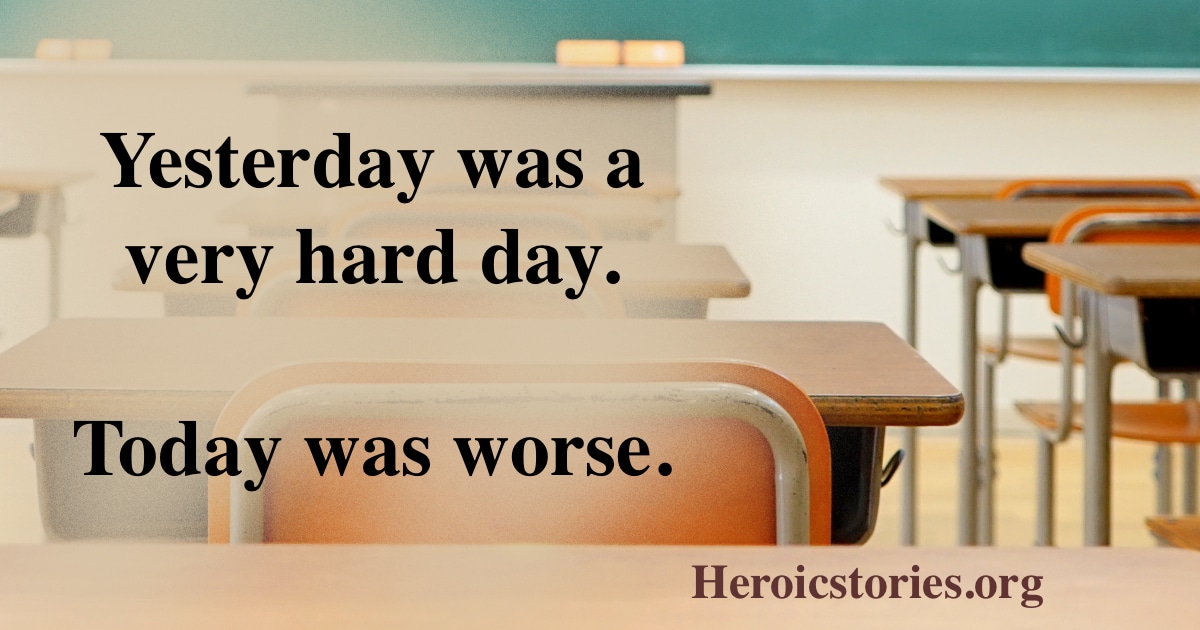 Yesterday was a very hard day. Today was worse. Why? A freshman at my high school committed suicide. I knew him — in fact, I talked to him yesterday morning. When I heard the first round of rumors last night, I thought, there's no way this is true. Someone is spreading a seriously messed-up rumor. But I knew it was true when I walked into the school building and saw so many red eyes staring back at me.
I met one of my best friends at the same place we meet every morning. We went and stood at the end of the hall where our friend had had his first class of the day, and I looked at her. This is going to be the hardest ten steps of my life, I said to her. "I'm here," she said, and we walked past the door that he would never walk through again.
That's when I started bawling. I cried all morning, as did so many other kids around school. I ended up going to the guidance office instead of first period.
The counselor escorted another friend and me to an empty classroom where there were two women I'd never seen before and a few other girls. Those two women were counselors from other local schools, who stayed with us and talked to us all period. They helped us try to make sense of our grief and gave us what little information they had.
The six other girls in the room and I laid out our grief and anger in front of those two angels and they acknowledged it, even though to some people we are just lowly children and don't need answers.
An hour and a half, a handful of tissues, and a lot of hugs later, I walked out of that room with the strength to support my friends and carry on. I hugged, laughed, cried, and most importantly, I dealt.
They were there all day — doing for others what they did for me. Sometimes I wonder how guidance counselors can do their job and not go crazy.
The grief in that room was so real you could have reached out and molded it with your hands — which is exactly what those two women did. We handed them our grief and they sculpted it into understanding. We handed them our tears and they made a reflecting pool. I can truly tell you I'm
OK; I'm not crying while I write this.
To think, they didn't even have to do this — they comforted us out of the kindness of their hearts.
They weren't afraid to tell us they didn't know the answers to all our questions, and helped us come to terms with the fact that no one might ever know the specifics. Those two ordinary women shone light on a dark alley that most adults would step around and try to explain away. Thank heavens for guidance counselors.
Originally published as HeroicStories #566 on Nov. 16, 2004

Podcast: Play in new window | Download (Duration: 3:54 — 3.6MB)