by Anonymous
USA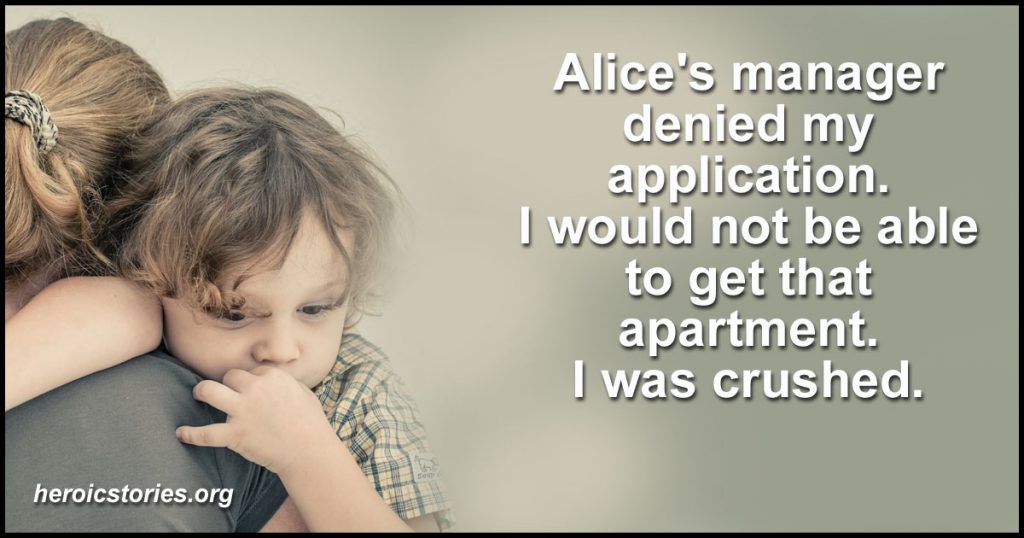 I am a divorced 26-year-old, a single mother of one 4-year-old son who is precocious but has a speech problem. Until August of 2006, we were renting a second home my mother owns. Normally, you would assume that things would work out well with such an arrangement — but you see, my mother is a severe alcoholic.
Mother decided to sell her primary home and move into the rental home we're living in. So now we have to go. There is limited time for us to find a place to live.
It's made harder, since my credit is a ruin that would cause most people to look down on me.
I have a good job that I've been with for years. But between bills and other expenses, it has been difficult and slow going to pay off the debts my ex-husband incurred that looped me into debt.
I went to a local apartment complex and met a wonderful woman I'll call "Alice". She understood the situation, though I left out the bit about my mother's alcoholism. Alice had been divorced when she was my age and had young children at that time (all grown now, of course). We had a chat together, and Alice made me easily smile in a time where there is a lot of stress.
When my credit check came back, Alice's manager denied my application. I will not be able to get that apartment. I was crushed; but this was not the first denial so I guess it wasn't totally unexpected.
I offered more deposit, but there was nothing Alice could do to change the situation. Then the following day I got an email.
It was from Alice, who must have gotten my email off the application. She had attached a list of local apartment complexes for me to call. The day after that, I got another email with a few more leads.
Later that day, Alice sent an email saying that if my mother continues to be unreasonable with allowing us to remain, her family will gladly help us with a place to stay for short-term.
I think I cried.
As of late August, I haven't found a place yet, but this one woman has given me a great deal of hope.
I'm a perfect stranger to her. She only knows me from a few conversations and very few emails. Yet, she and her family would open their hearts and homes for my son and me — I'm not used to that. My mother has even required stipulations for us to stay in her house that have made me uncomfortable.
However, this one woman has reached out and cares. Words cannot truly express what this means to me, and I can only hope Alice sees this story as a way of thanks.
She didn't have to care… but she did.
Originally published as HeroicStories #705 on Apr 3, 2007

Podcast: Play in new window | Download (Duration: 3:55 — 3.7MB)