Helen Casey
Boston MA
During the winter of 2014, I relocated back to the city. I had become victimized in a neighboring state; it was a bad situation that required me to leave very quickly for my safety.  I contacted some friends and they had invited me to come and stay with them.  I could stay as long as I needed, they said, "to get yourself together."
The haven they provided was the end of an 18-month ordeal. That winter, we had a very bad snow storm. There was at least two feet of snow and ice on top of my car, and when I started to shovel it, my snow shovel broke. I thought I'd use my ice scraper and arms to clear the snow off the car before going back to my friends' apartment and borrowing a shovel.
Suddenly, a young man ran out of a neighboring house with a shovel. I smiled and said, "Thank you so much," and reached for it, but he smiled back and said, "I'll do it for you, no problem." He did the heavy shoveling while I cleaned the snow off of my car, and together we got my car out of the snow bank. He was just happy to help me out, and that made my day, especially since my bad experience. I think I had subconsciously given up on people after my heartache.  After his random act of kindness, my world was a little brighter, and I could smile a little bit more.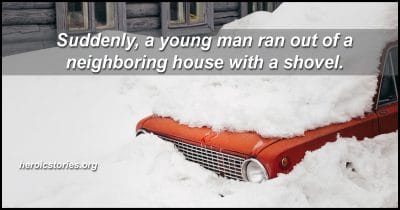 I am doing much better now. I no longer live in that town, but have a very strong bond to it. I think in some respects, I was reborn there. Because of the difficulties I went through, I do not think I will ever be able to live a normal life again. But when I get down or things get hard, I think about what that young man and that group of friends did for me. It reminds me that there are many wonderful, giving people on this planet. A few minutes of shoveling helped me connect once again to the possibility of innocent acts of kindness.
Originally published as HeroicStories #877 on Sept 19, 2016

Podcast: Play in new window | Download (Duration: 3:08 — 2.9MB)